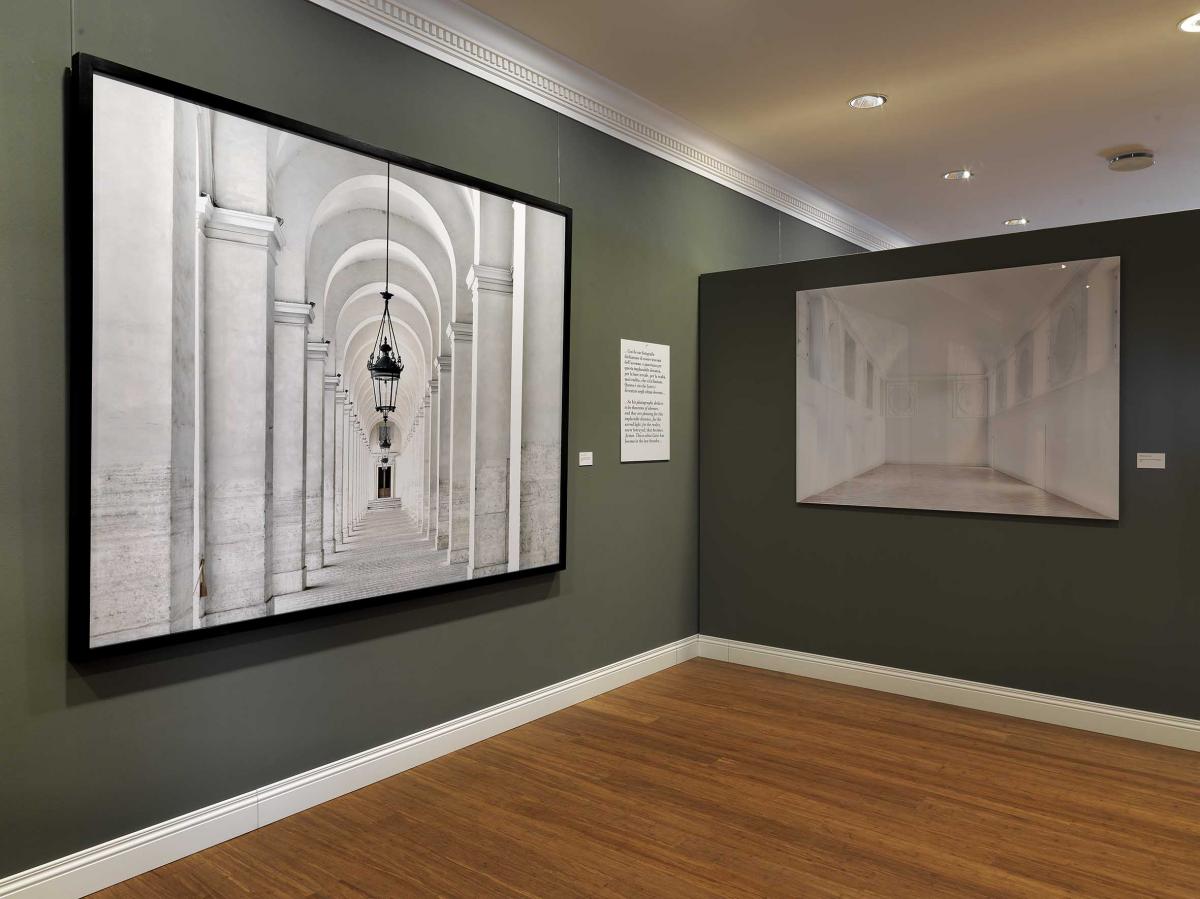 EXTRA LARGE FINE ART PRINT UP TO 180x400 CM
PRINT YOUR ARTWORKS IN EXTRA LARGE FORMATS WITH ALL THE QUALITY OF THE BEST FINE ART PRINT

Both Epson and Canon fine art plotters cannot print reels wider than 162cm due to technical limitations and precise marketing choices by paper manufacturers who do not market print media larger than the aforementioned size.
In fact, we must consider that the world of photographic fine art printing already considers the 100x150 as a large print format.

Over the years, our FINE ART PHOTOGRAPHIC LABORATORY with LOCATED IN FLORENCE AND MILAN has had the opportunity to count among its clientele authors who have become famous for being very attached to the large format.
In fact, for us it is customary to print a good number of 160x280cm works every week and then finish them with our handcrafted frames or to face mount them under Plexiglas.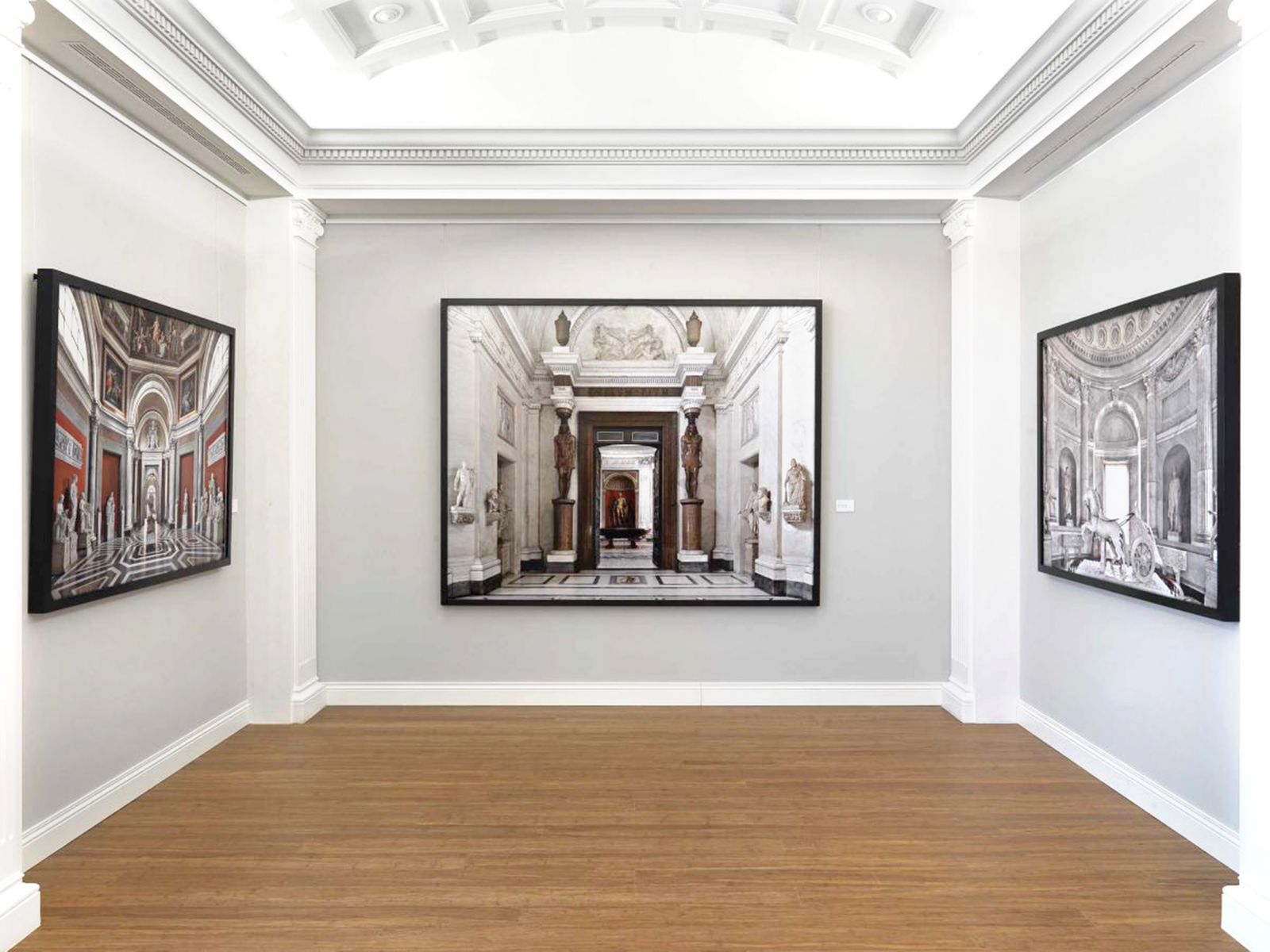 Inkjet fine art print 180x240 on ILFORD Gold Fiber baryta museum paper for Massimo Listri.
To meet the wishes of our customers, in recent years we have worked on a unique solution that goes beyond the limitations imposed by the canonical plotters for art printing and which now allows us to make fine art prints up to 180x400 cm.
The very large format giglèe prints made with this innovative system can be MOUNTED UNDER PLEXIGLAS or PANELED using acid-free double-sided adhesive and finished with ARTISAN FRAMES of any type.
TECHNIQUE AND EXPERTISE FOR AN UNIQUE SOLUTION
In our forty years of history we have never stopped evolving and through constant research we have managed to offer our demanding and varied clientele EXCLUSIVE SERVICES which over time have become indispensable.
It is precisely in the wake of this working philosophy that our proposal for printing in very large format was born, while maintaining the unique characteristics of fine art printing.
Until recently, those who wanted to create works with a width greater than 162cm were forced to resort to direct printing with all the resulting limitations.
Large format direct printing (whether it is UV, Latex or Solvent) is designed for commercial and industrial applications and consequently does not have the durability and color range characteristic of fine art printing.
This type of printing is extremely versatile because it allows you to print directly on a multitude of surfaces such as: aluminum, plexiglas, wood and fabric.
For this reason, among our services you will also find THE BEST OF UV AND LATEX DIRECT PRINTING as it is a tool now widely used by many protagonists of contemporary art to create their installations both indoors and outdoors.
Another solution for making prints of extreme formats is to use LAMBDA or LIGHTJET CHROMOGENIC PRINTING with photochemical technology. However, this solution has various limitations since it is a photochemical process and therefore subject to variability in the chromatic consistency and endowed with a rather restricted gamut. Clearly we are faced with a printing technology that is qualitatively superior to the industrial one but which however does not reach the precision and control of modern fine art inkjet printing.
We are extremely aware that when it comes to certified art photographic printing the limits within which you can move are extremely narrow in order to guarantee not only aesthetically impeccable works but also long-lasting ones.
Precisely for this reason, in recent years we have focused on finding a solution that combines the duration and brightness of the original Espon Ultrachrome Pro pigments and extra print dimensions, always using certified museum papers.
ORIGINAL EPSON ULTRACHROME PRO INKS AND ILFORD CERTIFIED PAPERS
A fine art photographic print is made up of three fundamental ingredients: archival pigments, certified museum paper and the expertise of those who take care of the delicate printing process.
Our extreme format giclée prints maintain these three fundamental elements in order to ensure those who rely on our experience beautiful and long-lasting art objects.
The use of archival-type pigments such as Epson Ultrachrome PRO in this case and ILFORD certified papers gives us the possibility of creating giclée prints of formats never seen before with all the characteristics of: conservation, gamut and density of our beloved fine prints art.
This is possible through the use of a special printing machine with very high definition heads equipped with an extra large print mouth specially profiled to use the latest generation Ultrachrome pigments.
In this way our very large format giclée prints are able to reproduce details in an extremely precise way with vivid colors faithful to the original.
Our choice to use original Epson Ultrachrome Pro pigments also for this type of printer derives from the long experience gained working with them.
Thanks to their unique characteristics, they have proved to be a precious and ductile tool for bringing fine art printing to unprecedented dimensions.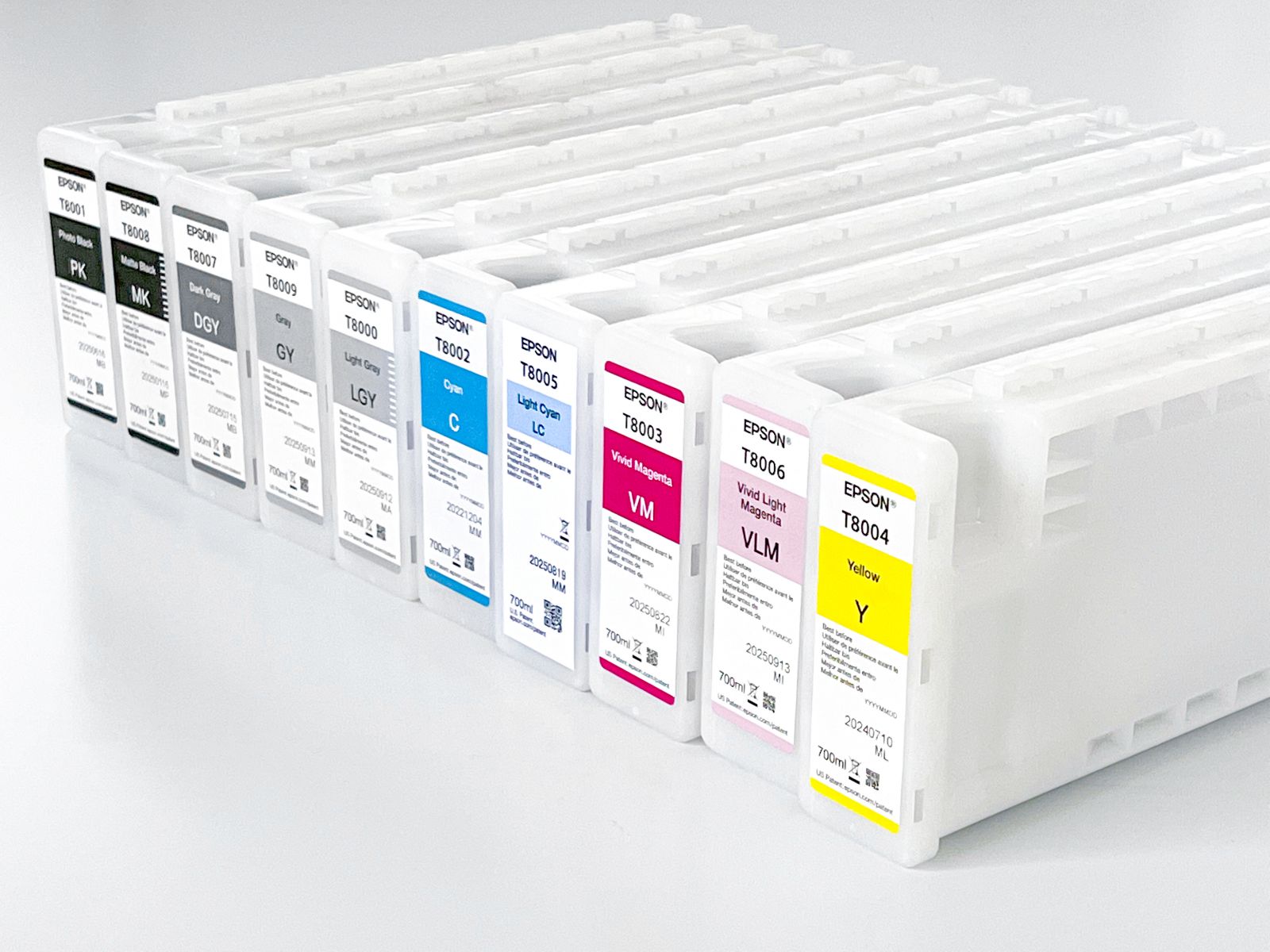 As far as papers are concerned, we have relied on those who produce them directly and through a dedicated partnership. Thanks to this direct relationship with ILRFORD we receive regular reels of fine art paper cut to our specifications.
In this way we are able to print in fine art up to extreme formats that are impossible to achieve with standard plotters commonly on the market.
Thanks to advanced printing software, we are able to have impeccable color management that makes the most of the potential of Epson pigments and the excellent ILFORD papers in our catalogue.
The giclée technology that allows these extreme formats is ultimately the same on which the latest generation plotters are based, to which we entrust the creation of the fine art prints that we all know and appreciate.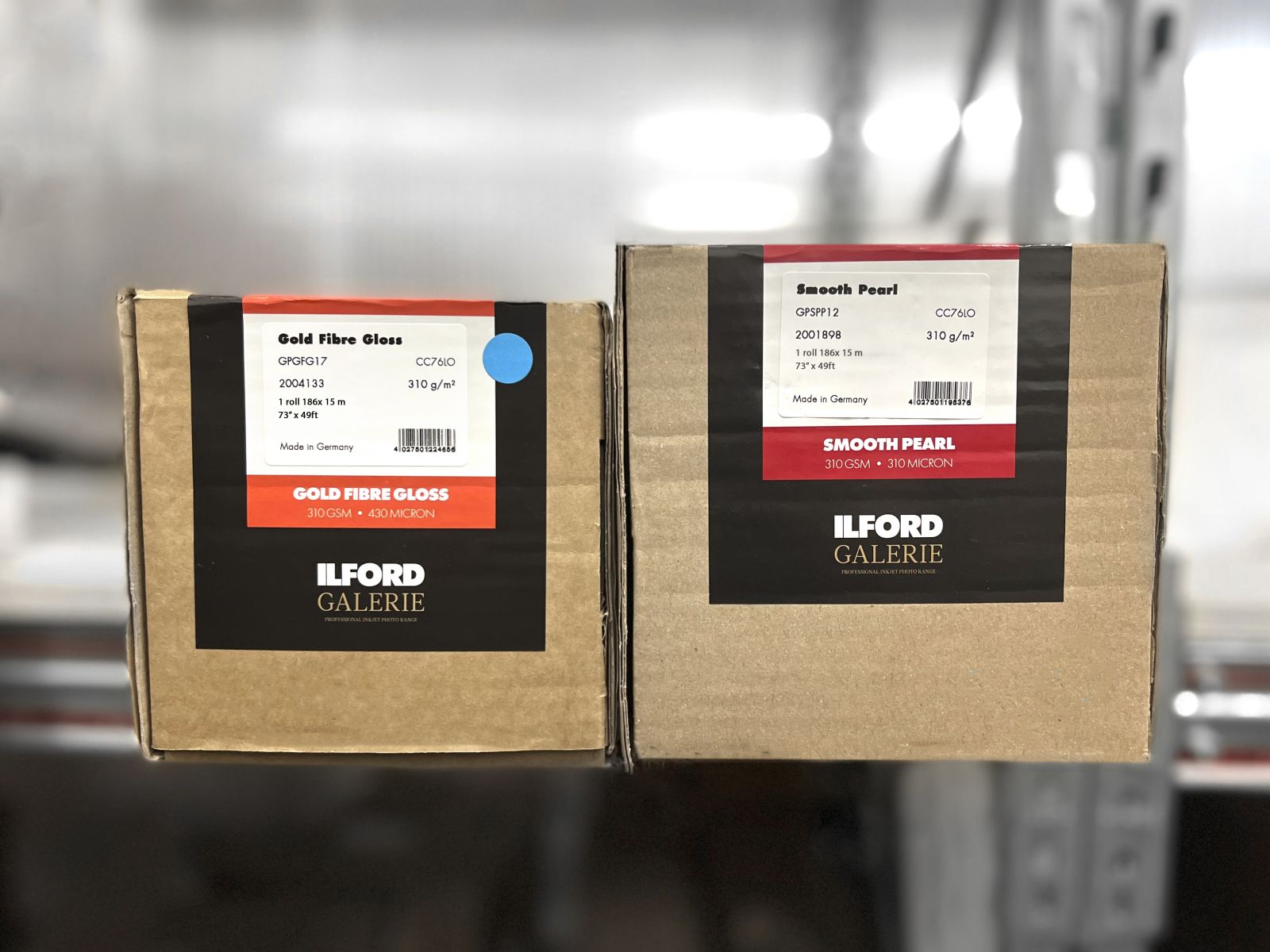 The very large format prints made with our exclusive printing system comply with the ISO 9706 conservation standards.

This allows us to work in an extremely agile way despite the extreme formats and also in this case it is possible to take advantage of our collaborative printing service to further refine the final result.
Authors can thus be sure of getting works that are totally in line with their expectations and wishes.
Being an extremely refined printing system, all the executive files are always viewed and optimized by our operators in order to guarantee exceptional results.

Until now, ILFORD produces on our request in 186 cm format. these two types of paper extremely appreciated both from the point of view of conservation and color rendering:
ILFORD SMOOTH PEARL 310 gsm
CLASSIC PHOTOGRAHIC MATTE PAPER
This paper is the direct heir of the classic opaque chromogenic photographic paper that our most loyal customers are now very familiar with. In fact, until recently, chromogenic printing with Lambda or Lightjet enlargers was the only one able to create formats comparable to those we now offer in fine art inkjet.
Many authors linked to opaque c-type print photographic printing have found in this paper an excellent substitute for traditional very large format photochemical printing.
Thanks to a latest generation emulsion it is possible to achieve extreme gamuts and deep blacks with extremely subtle details.
Being an extremely robust and easy to handle paper, it lends itself very well to being mounted directly on Dibond using acid-free adhesive, remaining flat and uniform.
In this way we can make fine art photographic prints of impressive dimensions without renouncing all the characteristics that have made fine art printing a mandatory tool for those who work in the art circuit.
ILFORD GOLD FIBRE GLOSS 310 gsm
FINELY TEXTURED BARYTA PAPER
Baryta paper for inkjet printing is now one of the most used thanks to its similarity to what was commonly used in the darkroom.
This ILFORD paper recalls this type of paper in many ways thanks to an extremely interesting emulsion as it has a natural white point and a very light texture capable of making the images extremely organic.
ILFORD, being a leader in the production of photographic papers for the past one hundred years, has fielded all its expertise to provide the most demanding photographers with a museum-quality print medium which, however, does not compromise as regards the color rendering and the depth of the highest densities .
ILFORD Gold Fiber gloss is a paper that we particularly appreciate as it can be mounted in an extremely safe and stable way even under Plexiglas.
In this way we create fine art prints under Plexiglas up to the incredible 180x400 cm format, this type of dimension before our revolutionary printing system was the exclusive prerogative of photochemical prints with the relative limitations deriving from it.
Today it is therefore possible not only to have fine art prints on certified museum baryta paper with bright and vivid colors but also on Plexiglas which can finally faithfully reproduce and enhance the colors of even the most extreme photos.
FINISH YOUR EXTRA LARGE FINE ART PRINTS WITH: HANDMADE FRAMES, FACE MOUNTED PLEXIGLAS AND BOARD MOUNTS
The ILFORD papers that we use for our extreme format fine art prints have been carefully tested and selected to be able to be finished with all the HANDCRAFTED FINISHING SOLUTIONS present in our vast catalogue.
In fact, prints of this size are not only a challenge from a technical point of view at the time of their creation but also pose various problems both in the handling and finishing phases.
Thanks to our 600 square meters of photographic laboratory located near Florence, in fact, there is a large section dedicated to paneling with two professional calenders and a framing and carpentry department.
In this way we can manage even the most complex processes internally and in this way ensure not only a high level of precision and care but also sartorial customizations.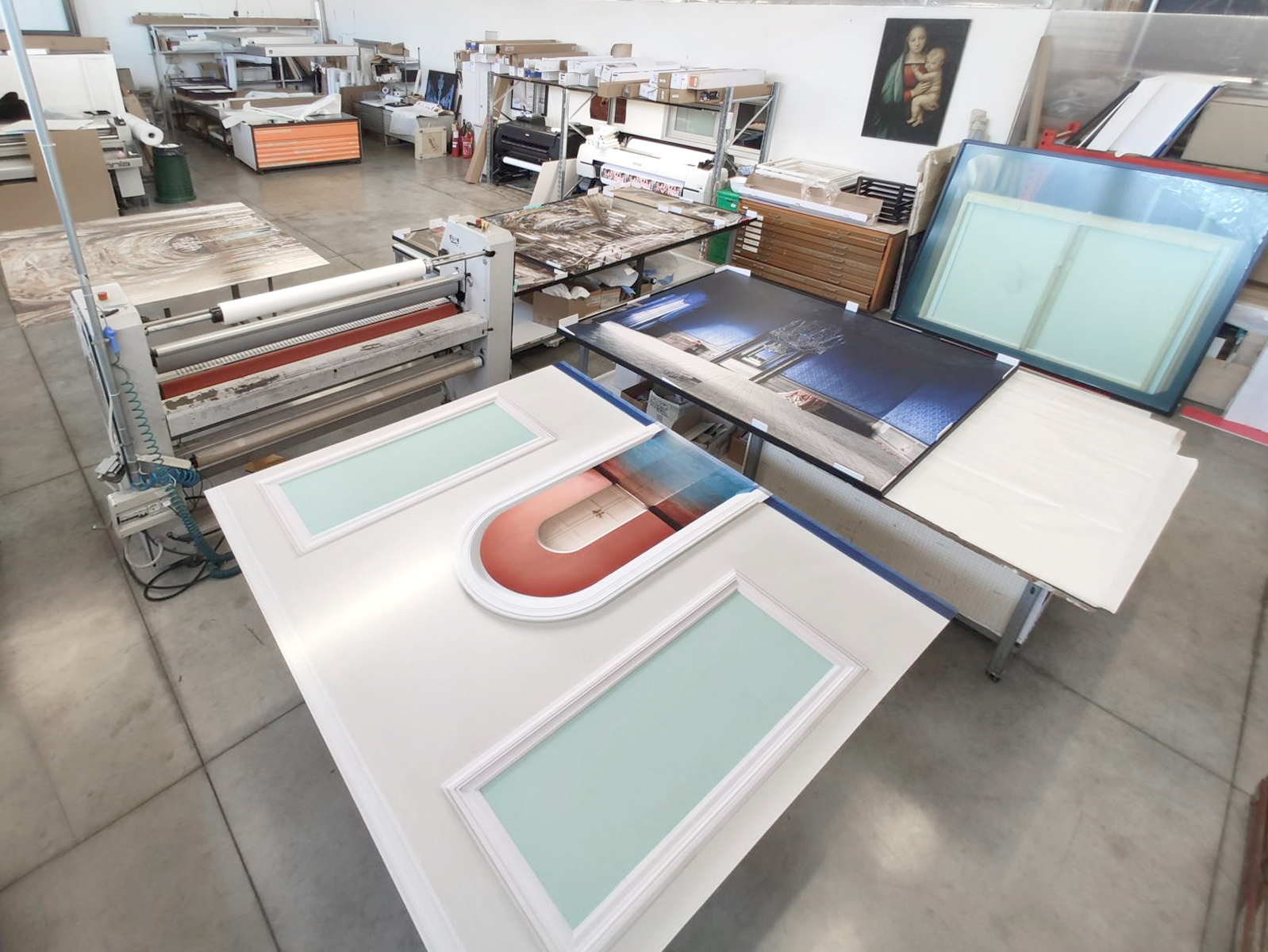 Thanks to a spacious working environment and specially designed tools, it is possible to work on several very large-format works at the same time.
The fine art prints produced with our oversize plotter can therefore be easily: MOUNTED UNDER PLEXIGLAS, PANELED ON DIBOND and finished with any type of HANDMADE FRAME OF OUR PRODUCTION.
Personally carrying out all the delicate operations that lead to the finished work allows us to work with extreme safety even with dimensions and dimensions that would put most of the photographic laboratories on the market today in crisis.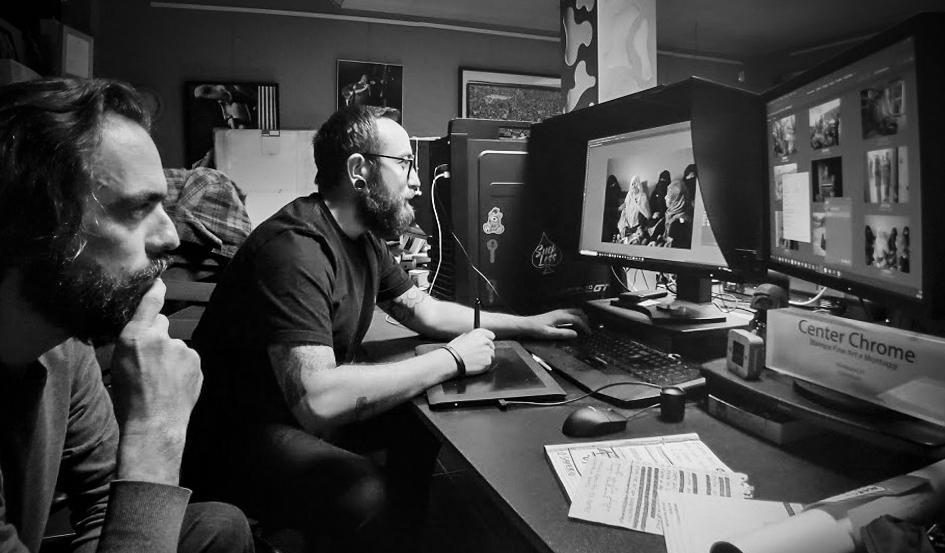 Collaborative printing is a fundamental moment during which we work hand in hand with the authors on their images.
As it is possible to see by visiting our portfolio section, over the years we have had the pleasure of being able to participate in the production of numerous installations which included large and very large format works.
Whether it's mounting under Plexiglas or finished prints with custom handcrafted frames, our commitment remains unchanged. Regardless of the formats in which we find ourselves operating, our level of attention and care remains unchanged.



WE PERSONALLY SHIP YOUR EXTRA LARGE FORMAT ARTWORKS SAFELY ANYWHERE IN THE WORLD.
The basic philosophy of our laboratory is to completely manage the production of the work within our 600m2 laboratory strategically located a few kilometers from Florence in the heart of the industrial and artisanal district of Calenzano.
Instead, those who come to visit us in the Milan showroom will find not only the best of fine art printing but also unique services such as this one which allows you to create gicée prints of formats never seen before.
Although located in two geographically functional locations to cover a large part of the Italian territory due to an increasingly expanding clientele and which also organizes international exhibitions, we have implemented a packing and shipping service capable of handling extreme formats up to 180x400cm equipped with frames, glass and counter frames.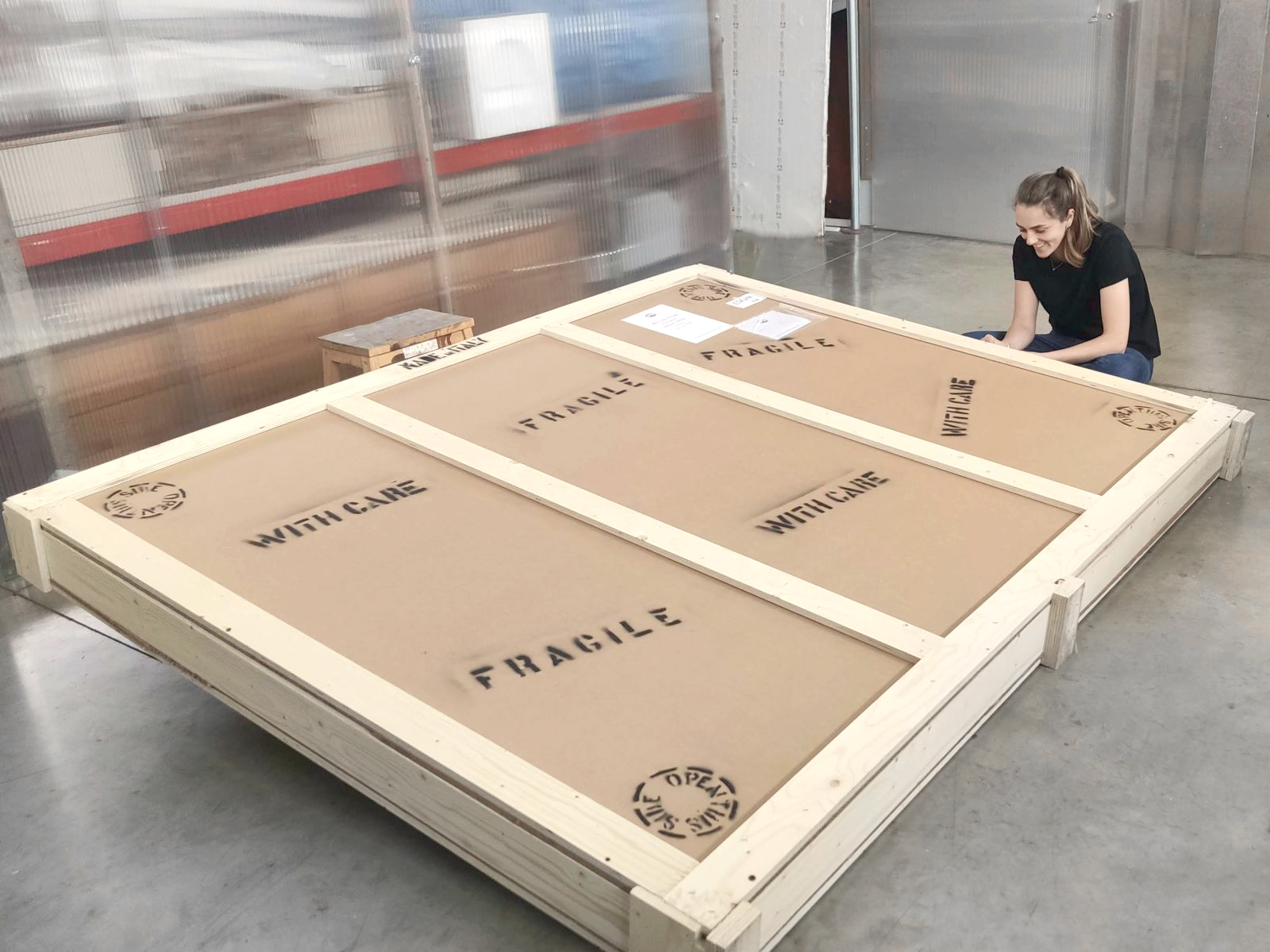 One of our boxes reinforced at the time of closure ready and equipped with all documents ready to leave for its destination..

Once the processing of the work has been completed, we are in fact also able to create reinforced crates that comply with the specifications for international shipments with respect to the materials used and the structural aspects.
For us it is now customary to make CUSTOM-MADE BOXES using fireproof wood with anti-parasitic treatment which can also be sent peacefully to the United States and other countries with very strict customs standards.
Furthermore, these cases being custom-designed with neoprene padding reduce the vibrations to which the work is subjected to a minimum, guaranteeing its integrity during the journey.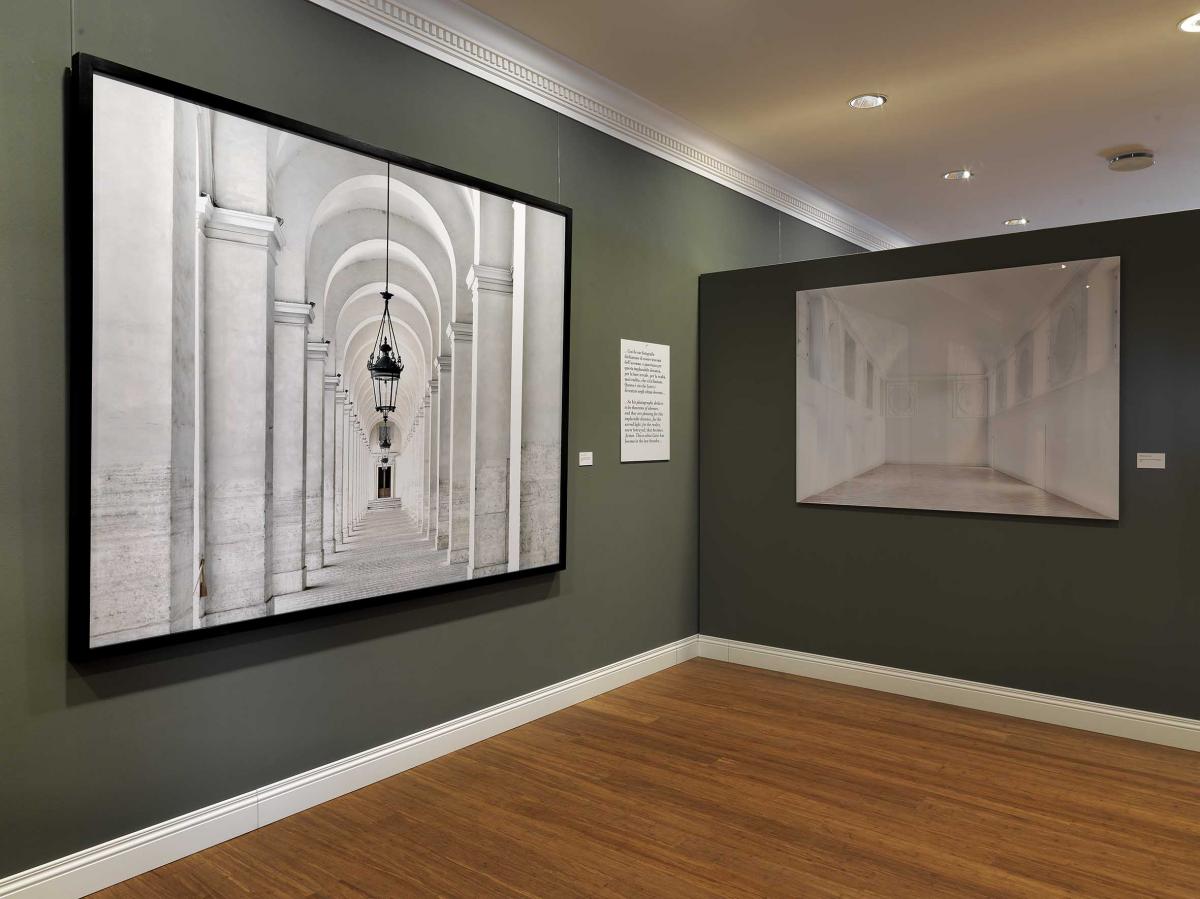 Fine art print on Ilford Fiber Gloss paper 180x250 made for Massimo Listri and installed at the Vatican Museums.


The United States, Russia, Brazil, China, Japan and the United Arab Emirates are just some of the countries where we often ship the large-scale works we are talking about.
In addition to the mere packing part, we also personally take care of preparing the documents for this type of shipment and thanks to our long experience we can promptly foresee and resolve any customs clearance problems that may arise.
Furthermore, upon request, we are available to personally transport the works and set them up on site. This type of solution is particularly suitable for private individuals and small installations that may not have workers with experience in this type of delicate operation.