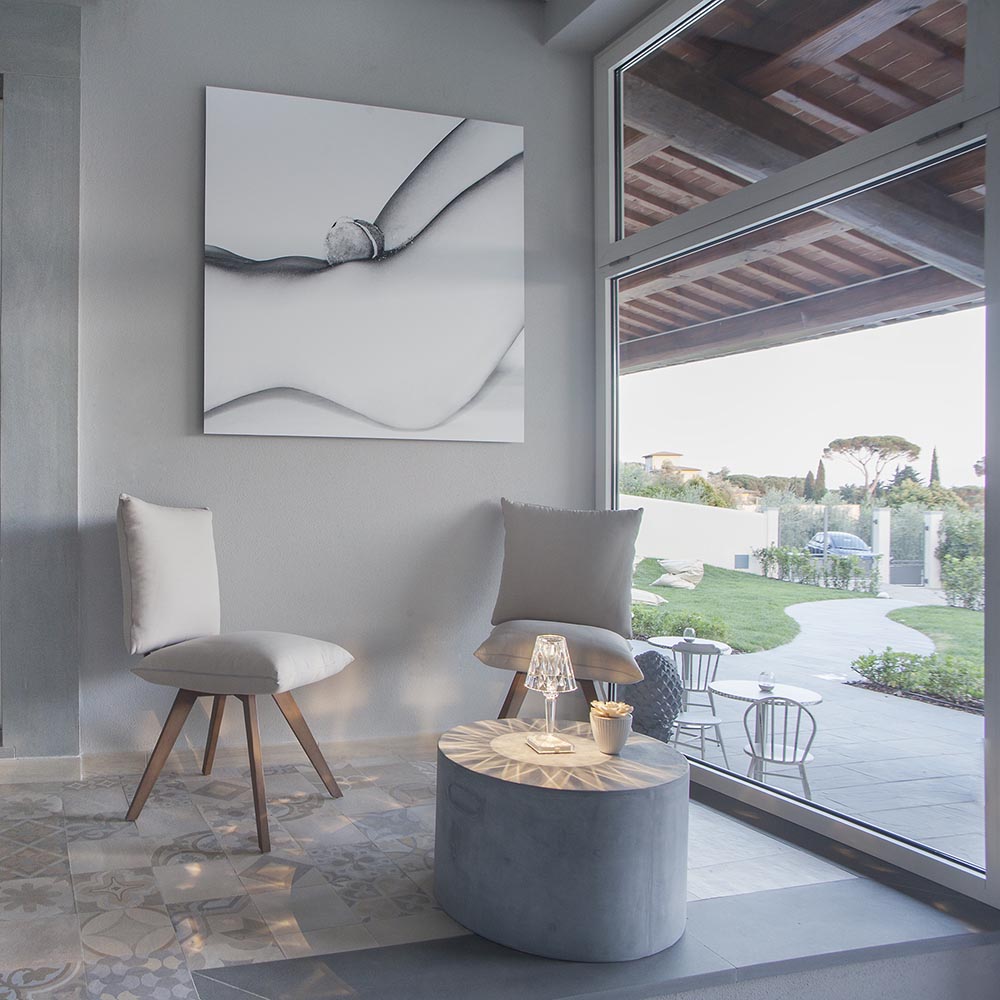 MUSEAL GRADE BOARD MOUNTS
ONLY CERTIFIED MATERIALS FOR YOUR ARTWORKS


The goal of our photographic laboratory is to create AESTHETICLY IMPECCABLE AND EVER LASTING WORKS.
It is in fact totally useless to put so much effort in creating flawless certified fine art prints and then couple them on non-compliant materials using glues or double-sided adhesives containing acid and volatile compounds.
Sadly this is a very common mistake that over time triggers irreparable consequences.
For this reason we offer our customers state of the art materials and mouting procedures. In out catalogue there's space only for carefully selected materials that meets rigorous museal grade consevation standards.
Whether it's a piece to be exhibited in a museum, intended for an important collector or a "simple" interior design object, it is essential for us to deliver works that will remain intact over time.
All the rigid panels we offer are cut internally and this allows us to guarantee an EXTREME DEGREE OF CUSTOMIZATION and precision.
---
DIBOND
THICKNESS:
2 o 3 mm
MAXIMUM SIZE:
1,8 x 3 Mt
STRUCTURE:
Polyethylene core encased between two alluminium sheets.
IDEAL FOR:
Any kind of artwork that require durability and planarity.
Dibond is a composite support made up of a polyethylene core enclosed by two aluminum foils. It is a LIGHT but extremely SOLID material. The composite nature of the material makes it extremely resistant and stable over time. Regardless of whether it is used in small or very large format works, Dibond is an absolute guarantee of durability.
Another reason why Dibond is jack of all trades is becouse its incredibly smooth surface. This enables us to flawlessy mount even the most delicate papers such as Fujiflex and ultra thin glossy papers.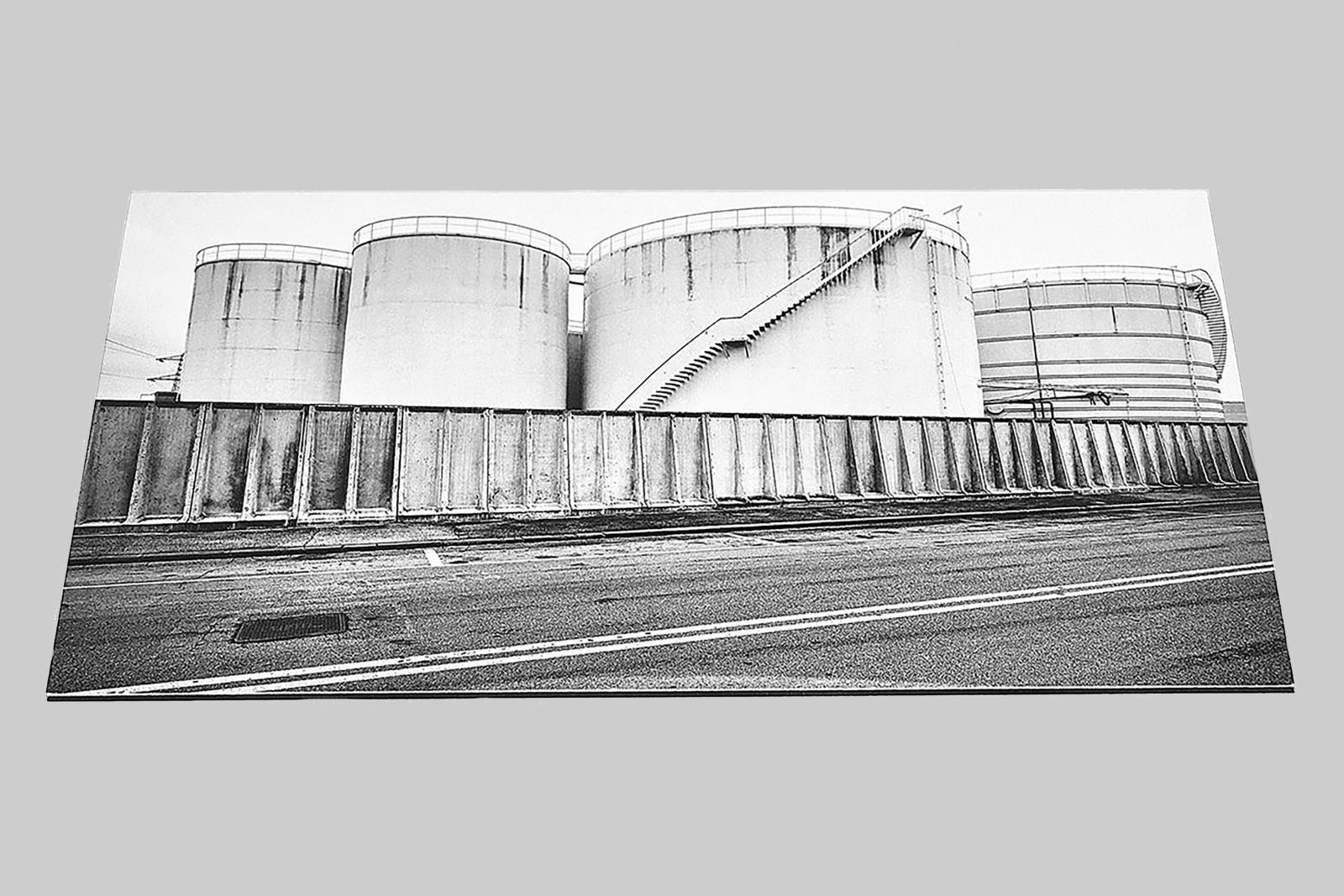 Thanks to these unique characteristics, Dibond is practically an obligatory choice for those who want to create even large-format works that do not undergo alterations over time.
We offer this material with great confidence as it is TOTALLY INERT FROM A CHEMICAL POINT OF VIEW and therefore, if coupled with fine art prints using ACID FREE BIADESIVI, it preserves its museum-grade duration.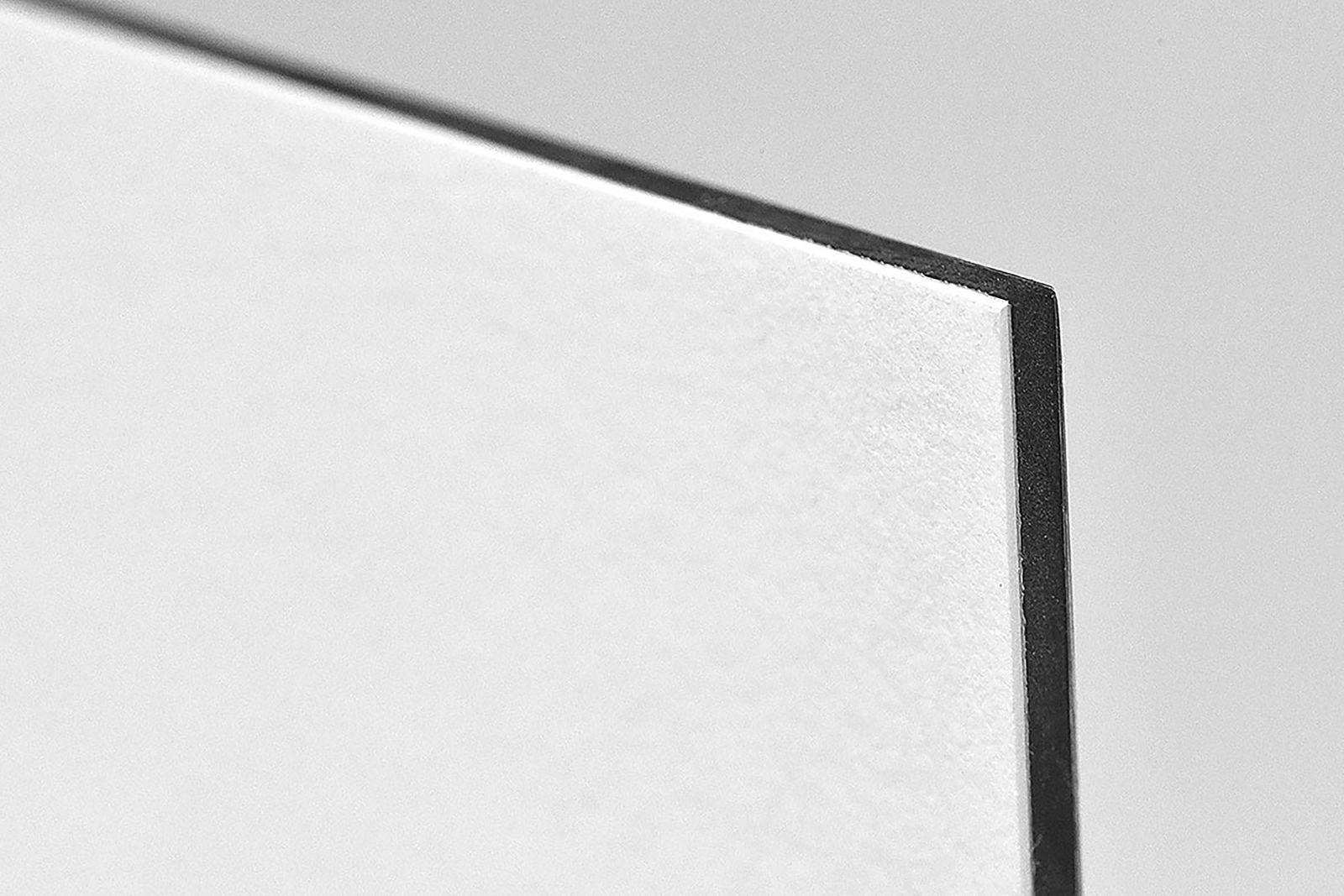 Side section of a giclée print on cotton paper mounted on Dibond.

We love Dibond becouse it is the ideal support on which WE CAN BOARD MOUNT ANY TYPE OF FINE ART PRINT, whether it is made with our LAMBDA DIGITAL ENLARGER or with our LATEST GENERATION FINE ART INLKJET PLOTTERS.
We are able to couple any type of fine art paper, both inkjet and chromogenic, to Dibond.
The prints do not necessarily have to have been made in our laboratory but we can ASSEMBLE THE PRINTS ALSO ON BEHALF OF THIRD PARTIES.
Furthermore, this solution has also proved to be excellent for panelizing paintings or works created with mixed techniques.
Our Dibond supplies are inspected to ensure the ABSOLUTE PLANARITY AND SMOOTHNESS of the supports we use to couple it with all the types of fine art photographic prints we make. Thanks to its resistance, it is possible to produce works ranging from the smallest formats up to a maximum of 1.8 x 3.0 metres.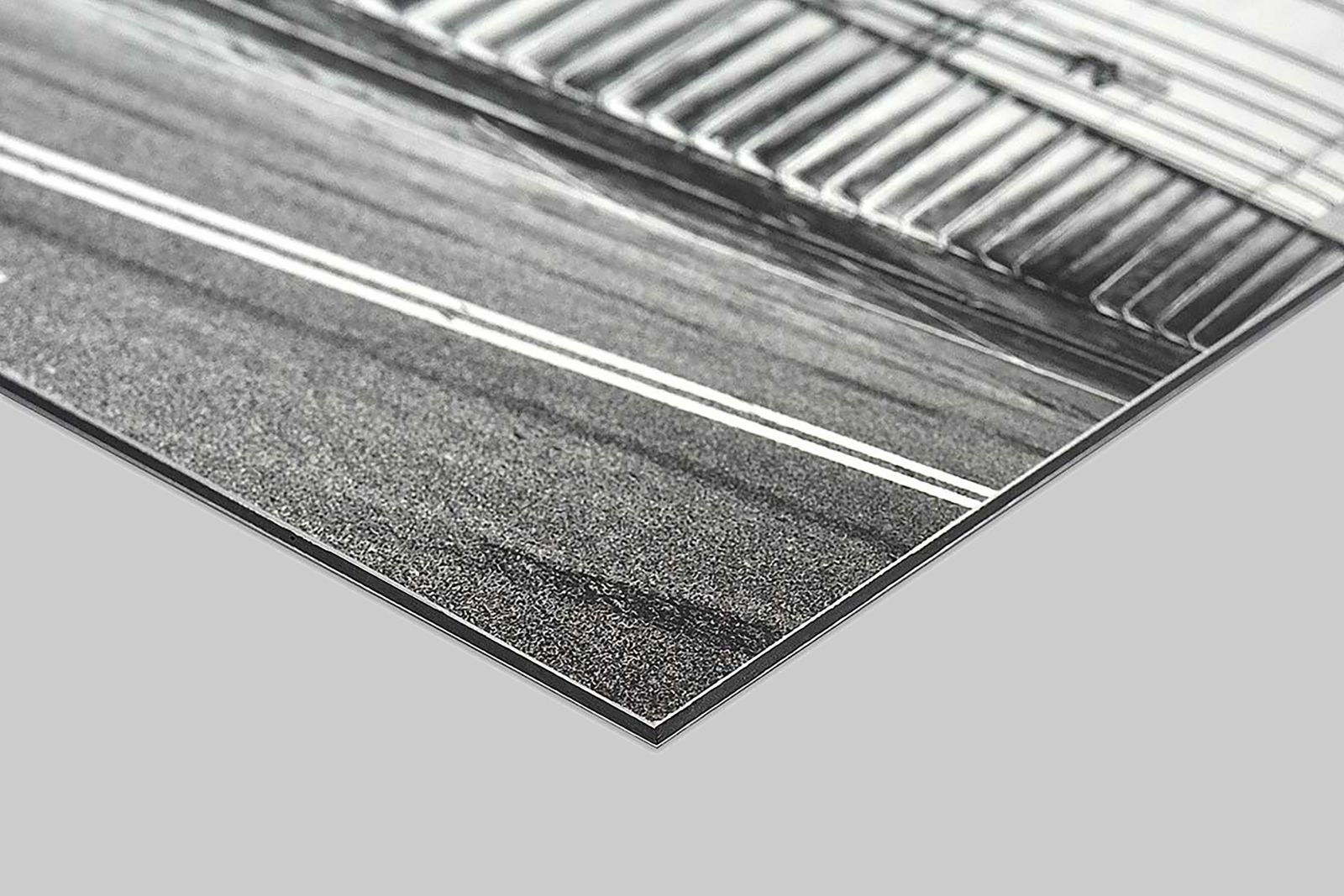 Planarity testing of a Dibond board

Dibond is an excellent base for works to be framed but it is also an ELEGANT AND MINIMAL SOLUTION if presented live perhaps with the CLASSIC SELF-SUPPORTING ALUMINUM SPACERS installed on the back to mount it directly on the wall.
In this way it is possible to have even very large works on the wall which will float at a pre-established distance from the installation surface. Furthermore, this minimal solution gives further rigidity and structural strength to the artworks.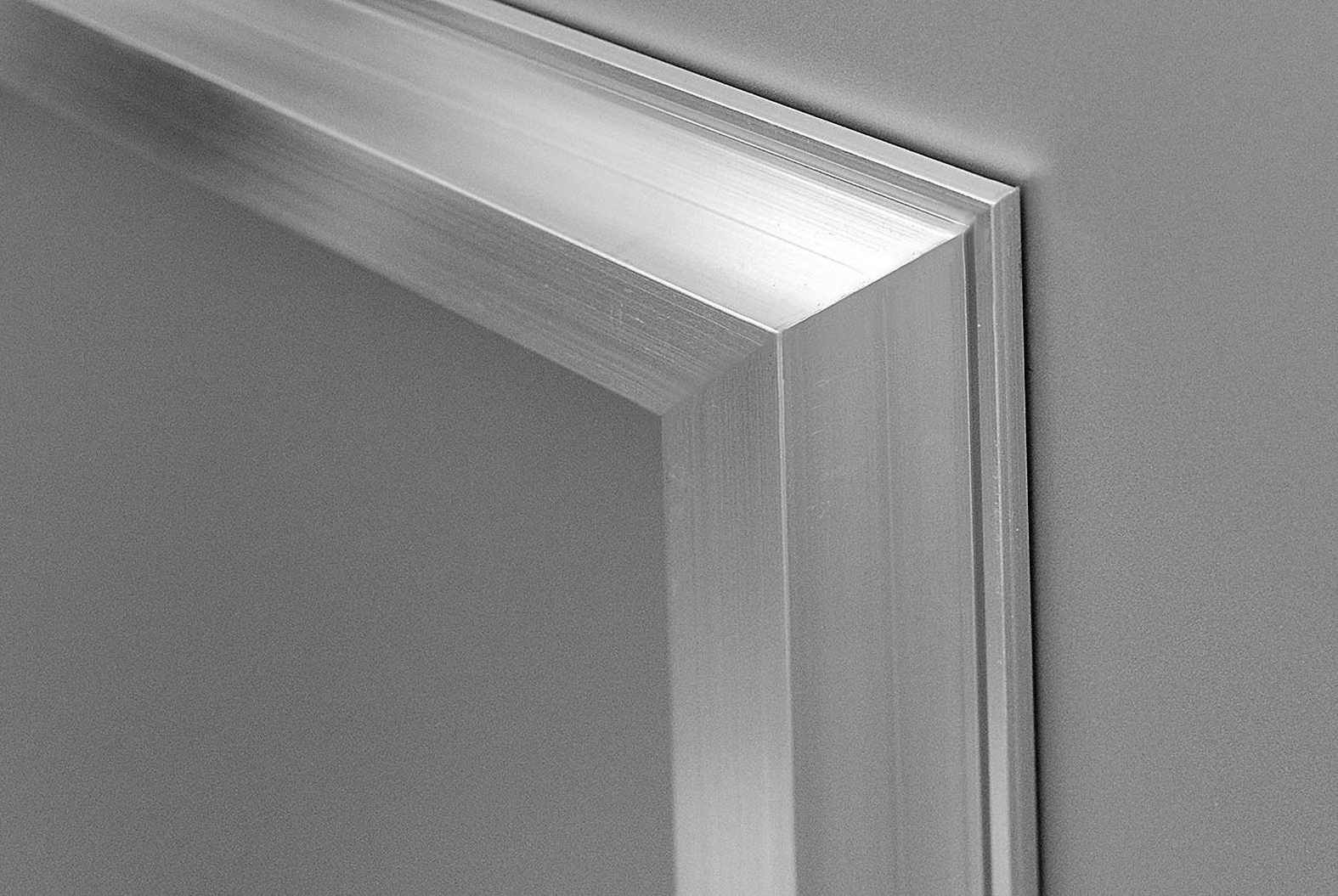 An example of the "floating" effect enabled by the application of a back hanging frame to the Dibond mounted artwork.


More and more interior designers are using photographic prints mounted directly on Dibond to transform images into custom-made furnishing objects.
Furthermore, its workability leads us to use it very frequently as a base for FINE ART PRINTS UNDER PLEXIGLAS or those finished with an American floating frame.
Thanks to continuous research, in recent years we have also begun to offer PANELED FINE ART PRINTS ON TURNOVER DIBOND.
This unique process takes full advantage of the characteristics of this material with a thousand uses, giving the possibility of obtaining works that continue on the sides of the Dibond slab.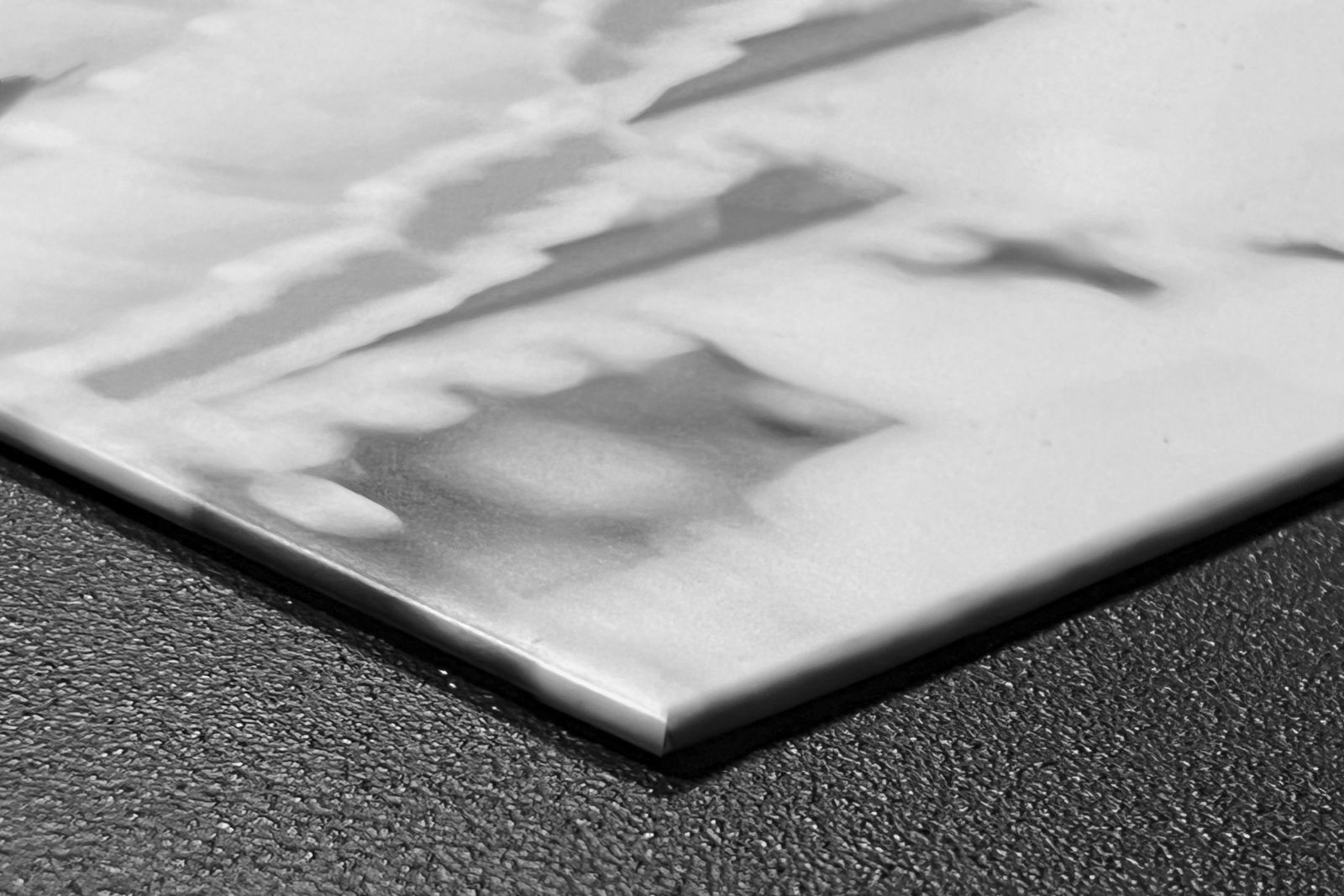 C-Type Print mounted on turnover Dibond.

This impressive solution recalls in some ways the paintings made on canvas which was then stretched on the frame thus giving continuity to the edges of the image and adding three-dimensionality.
To obtain this very particular effect, WE USE A SPECIAL DIBOND WITH ROUNDED EDGES on which our C-Type Prints are then rolled and turned up.
Thanks to our proven mounting method the turned over print on dibond looks sooth.

We are extremely proud of this exclusive solution given the GREAT SUCCESS IT HAS ACHIEVED IN THE WORLD OF INTERIOR DESIGN and FURNITURE as it adds a further level of craftsmanship refinement to the elegance of the classic photographic print mounted on dibond.
FOREX AND COMMUNICATION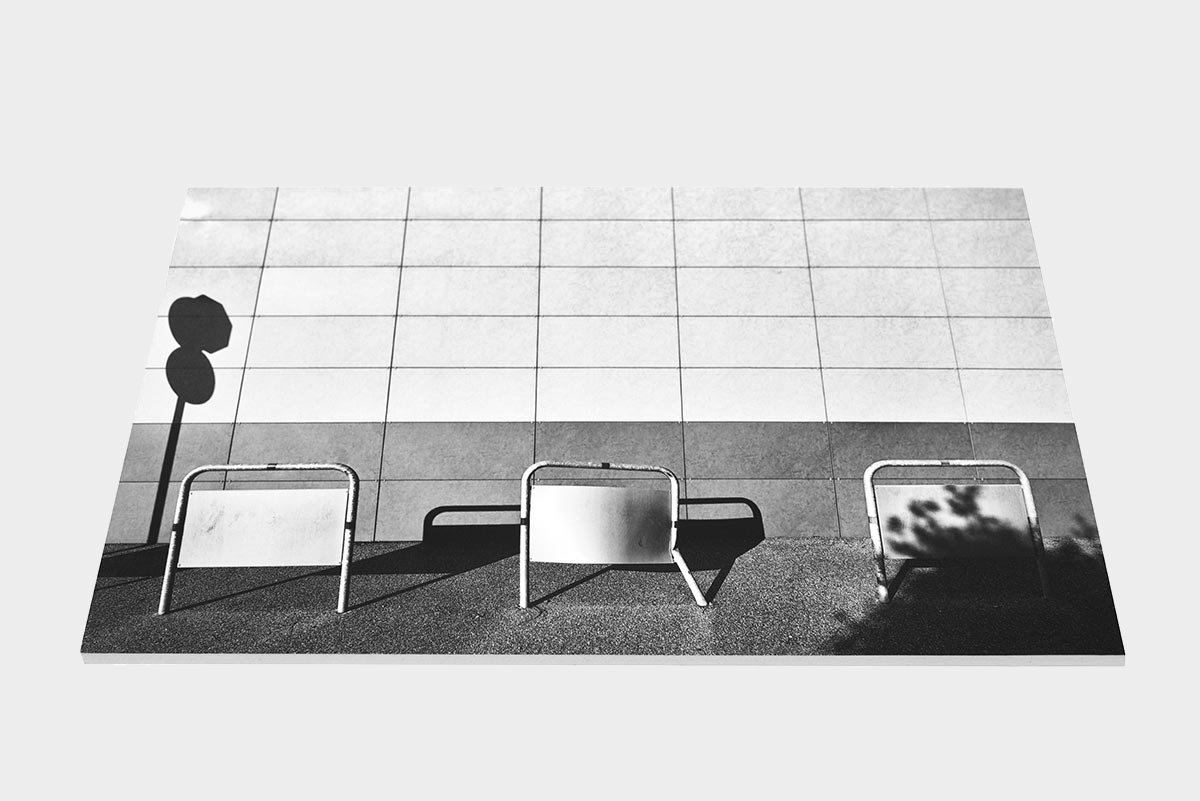 Thinkness: 2 mm, 3 mm, 5mm, 10mm
Max size: 1,8x3 mt
Composition: Pvc compounded layers
Finishing Colours: Black, White and Wooden
Forex and Communication are PVC plastic materials with various degrees of compactness. Our laboratory uses the BEST MATERIALS AVAILABLE, constantly checking them for both density and flatness.
Many photographic laboratories also offer these solutions for live presentation without the use of any type of frame.
Our experience has taught us that FOREX AND COMMUNICATION ARE IDEAL MEDIA TO BE FRAMED. This is because, unlike Dibond, they are subject to deformation over time which can be caused by thermal or hygrometric variations.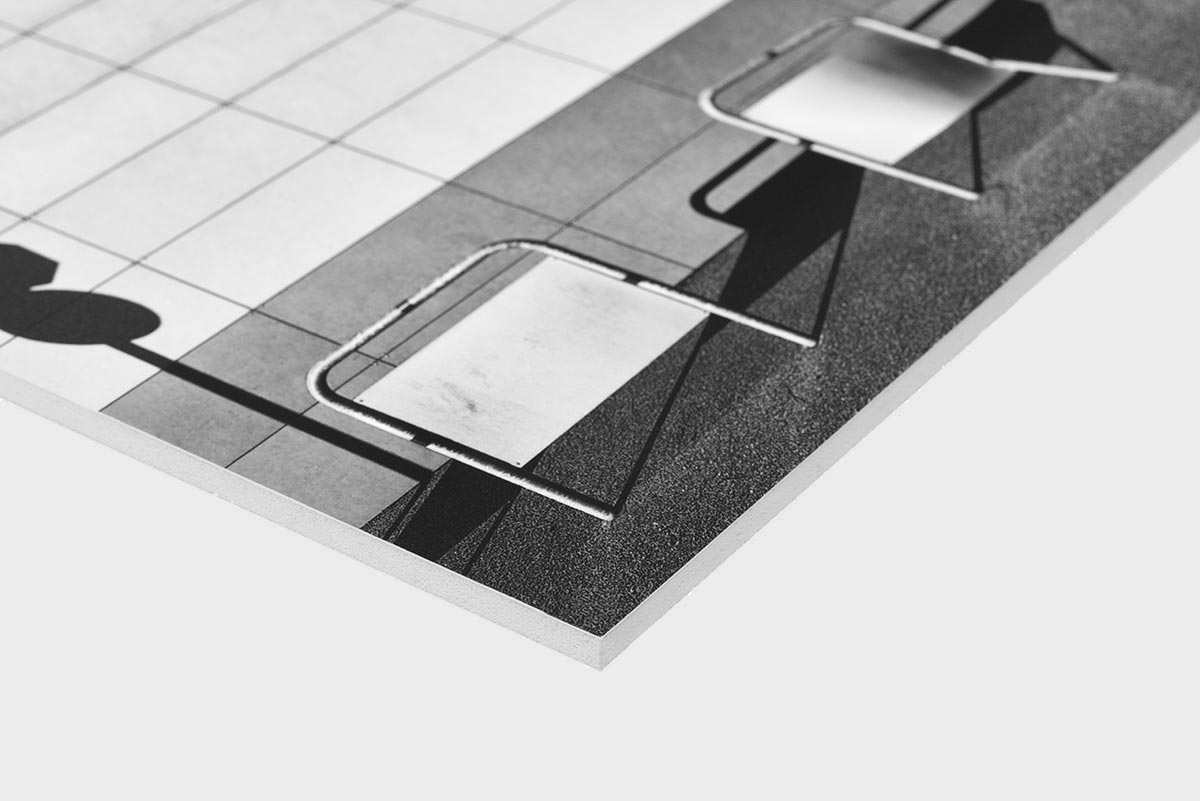 Giclée print mounted on a standard 10mm Forex board.
When you want to create a work larger than the 40x60 format using one of these two materials, the practice is to finish it with one of the many box frames available in our price list.
In this way we will take full advantage of the lightness of the PVC, giving stability to the panel thanks to the assembly in the frame.
The coupled PVC panel with handcrafted box frame is the most used by those who want to make large format framed fine art prints to be installed on masonry that cannot support excessive loads.
Also in this case, OUR OPERATORS WILL BE ABLE TO RECOMMEND THE BEST MATERIAL ON THE BASIS OF YOUR INSTALLATION AND DURATION NEEDS.
In fact, it is a support that we have been using for decades and of which we know all the applications in depth. In this way we are able to use it as a basis for assembling the WIDE TYPE OF FINE ART PRINTS that we make every day for our customers.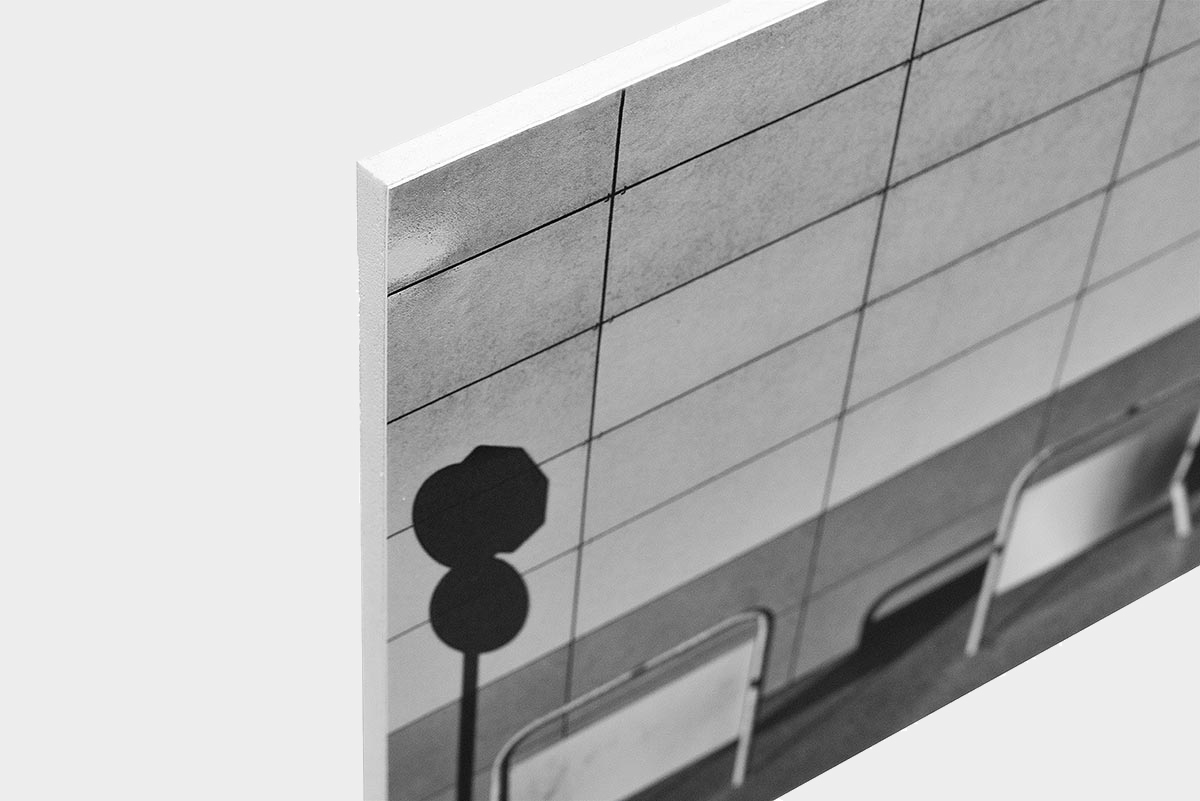 Lateral section of a Forex board cut with our precision cutting system.

Forex and communication panels with a thickness of less than 5mm are used to give rigidity to the fine art prints.
Among photographers and artists, the practice of mounting their prints on these supports is widespread so that they can be handled more practically when they are presented.
In this way it is possible to CREATE extremely compact and long-lasting PHOTOGRAPHIC or illustration PORTFOLIO.
It is possible to PANEL ANY KIND OF PRINTING ON FOREX OR COMMUNICATION made both with Inkjet technology and with digital lambda enlarger.
Both the cutting of the panels and the assembly with acid-free double-sided adhesives are carried out in our laboratory. This allows us to create FULLY CUSTOMIZABLE FORMATS in order to satisfy the requests of even the most demanding client.
GATORFOAM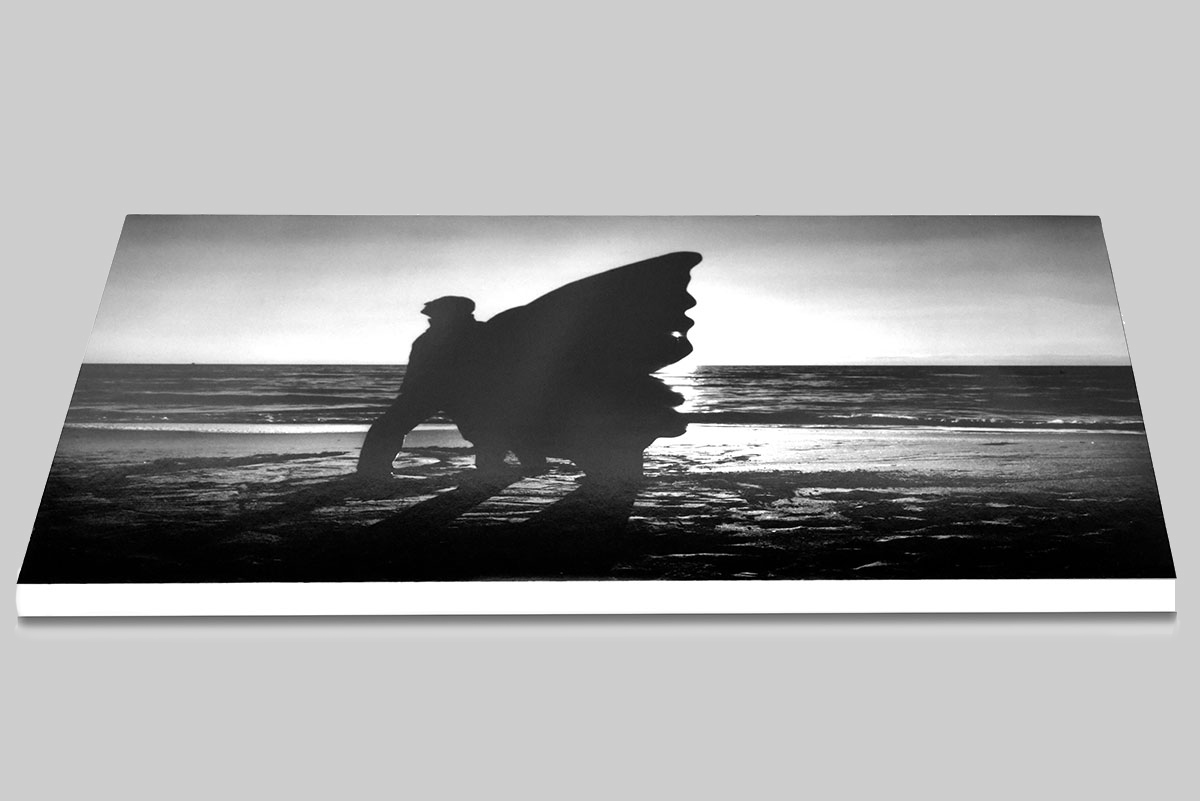 Thickiness: 10 and 20 mm.
Max Size: 1,8x3 mt
Composition: Ultra dense polystyrene core laminated with artificial veneer
Colour: White
Finishes: White, Black, Wooden Edgings
Ideal for: Self supporting wall installation
For almost fifty years, Gatorfoam has been the STANDARD FOR ASSEMBLING IN GRAPHIC ARTS and is suitable for assembling any type of FINE ART PRINT.
Thanks to its composite nature, it guarantees flatness and resistance combined with incredible lightness. It is also possible to EDGING THE SUPPORT.
Our photographic laboratory offers the possibility of performing this edging in the colors WHITE, BLACK and NATURAL WOOD.
This type of solution is particularly suitable if you wish to present the fine art print simply coupled to the Gatorfoam panel without using the frame.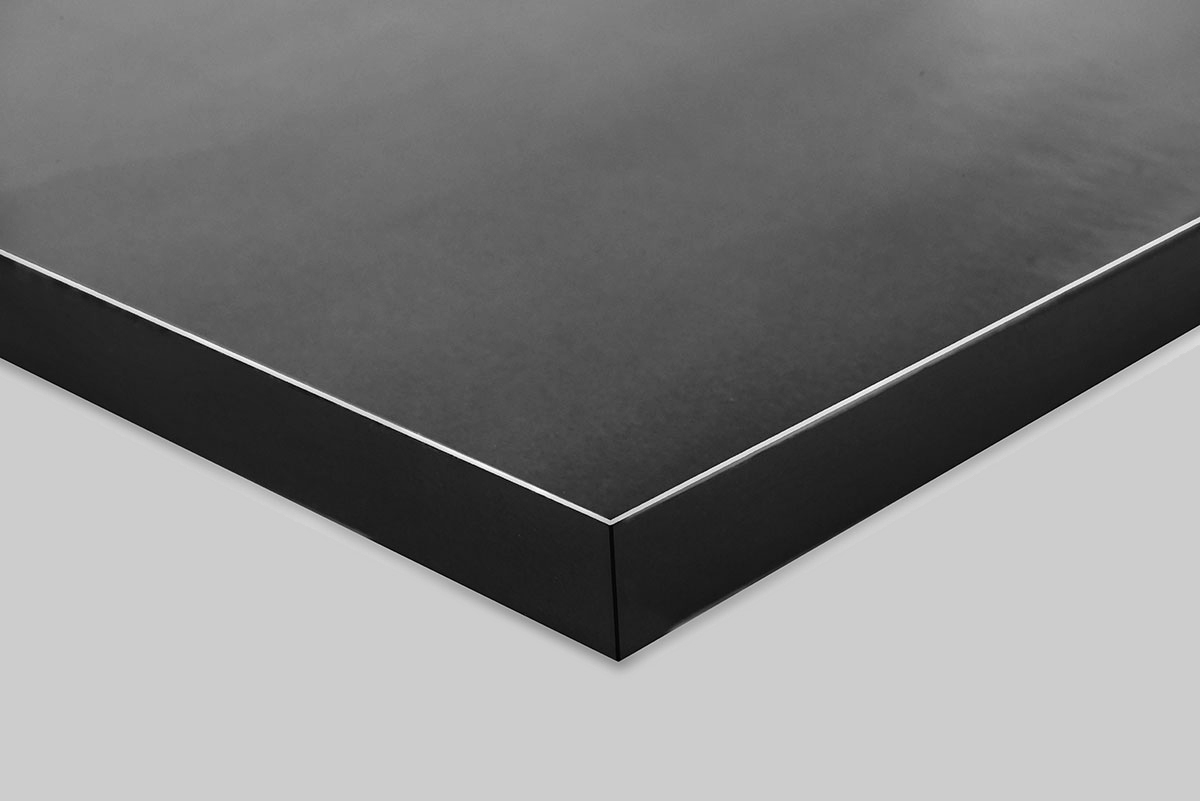 Giclée fine art print mounted on black edged Gatorfoam


This material combines the FLATNESS and RESISTANCE of Dibond with the LIGHTNESS and THICKNESS of Communication.
It is therefore the ideal solution for those who want to CREATE SELF-PORTABLE WORKS, even in large and very large formats, to be installed directly on the wall.
The thickness of this type of panel gives importance and presence to the works as well as ensuring their durability and stability over time.
There are two main ways of fixing options to the wall. The first involves the milling of one or more BLIND HOLES ON THE BACK OF THE PANEL in order to exploit its thickness to accommodate any type of nail or dowel in an invisible way, the second instead consists of the installation of the classic ALUMINUM PROFILES JOINTED WITH QUARTABONO which they will make the work "float" above the installation surface.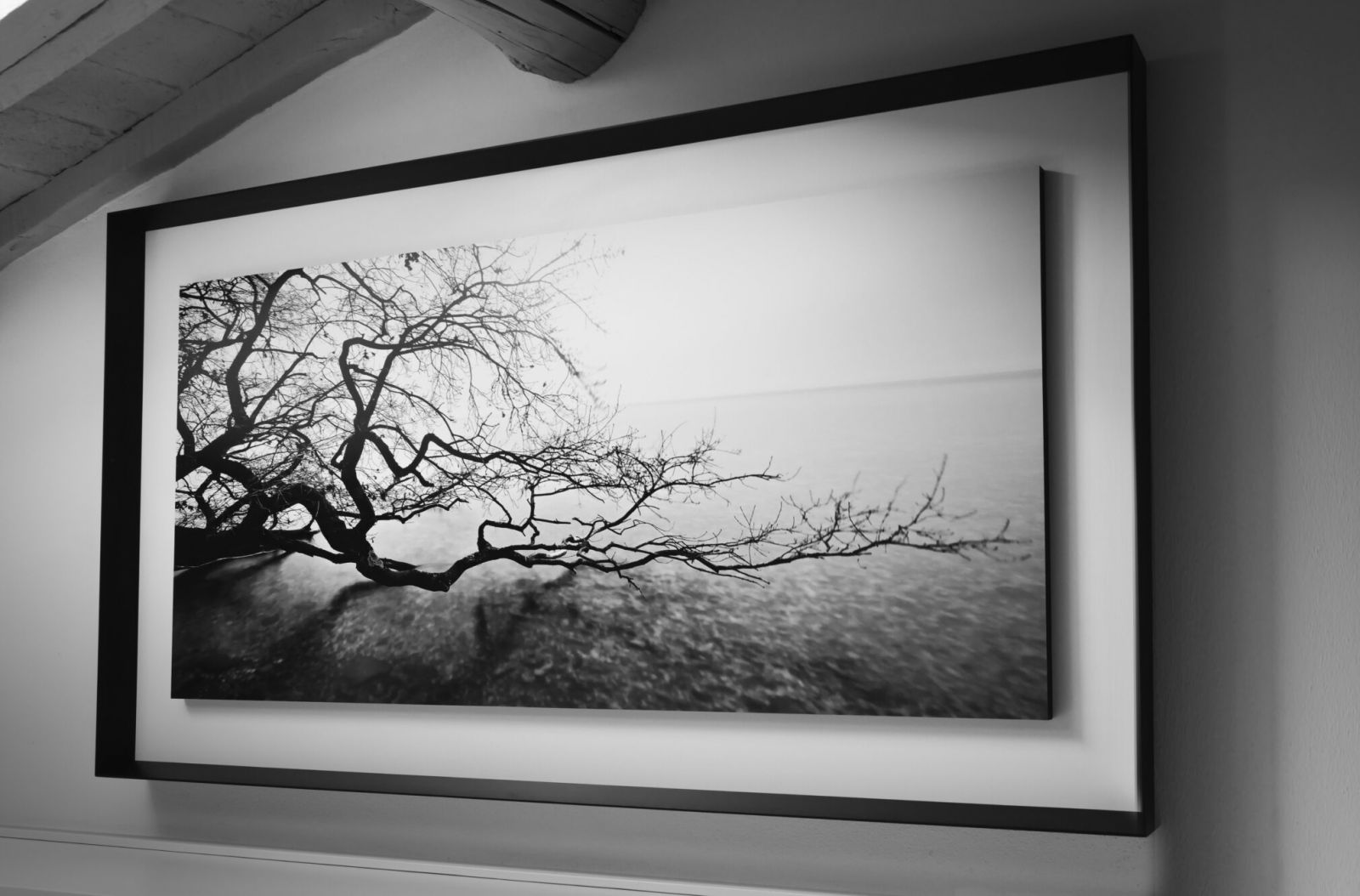 Large format fine art print mounted on 2cm black Gatorfoam finished with an artisanal custome frame.
Given the exceptional resistance to thermal and hygrometric variations regardless of the format, it lends itself very well to the creation of installations and polyptychs composed of modular elements arranged in a grid.
However, it is possible to exploit the characteristics of this exceptional support even within our handcrafted frames such as for example in the case of floating custom frames