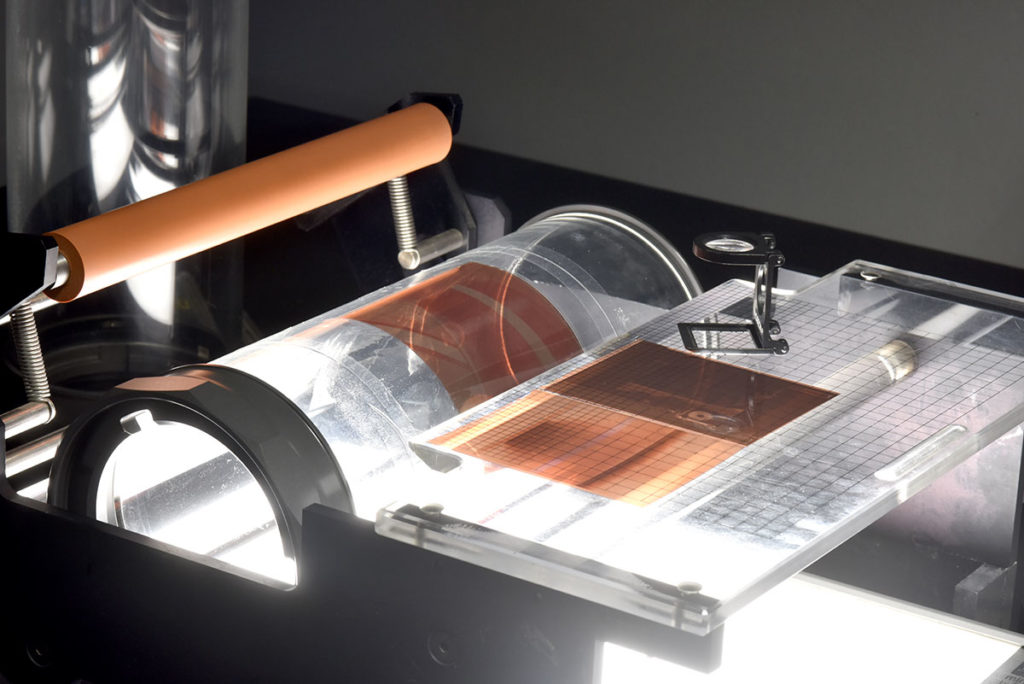 DRUM SCANS
SIMPLY THE BEST EXISTING SCANNING SOLUTION
Drum scanning represents the pinnacle of digital capture. NO OTHER DIGITIZATION METHODS CAN EQUAL IT IN RESPECT OF: resolution, dynamic range, sharpness and color fidelity.
This one-of-a-kind scanning method is capable of preserving the unique characteristics of the film unaltered, ensuring in the printing phase a decidedly analogical flavor sought to the point of obsession by those who have (re)discovered the beauty of recording their own images on silver.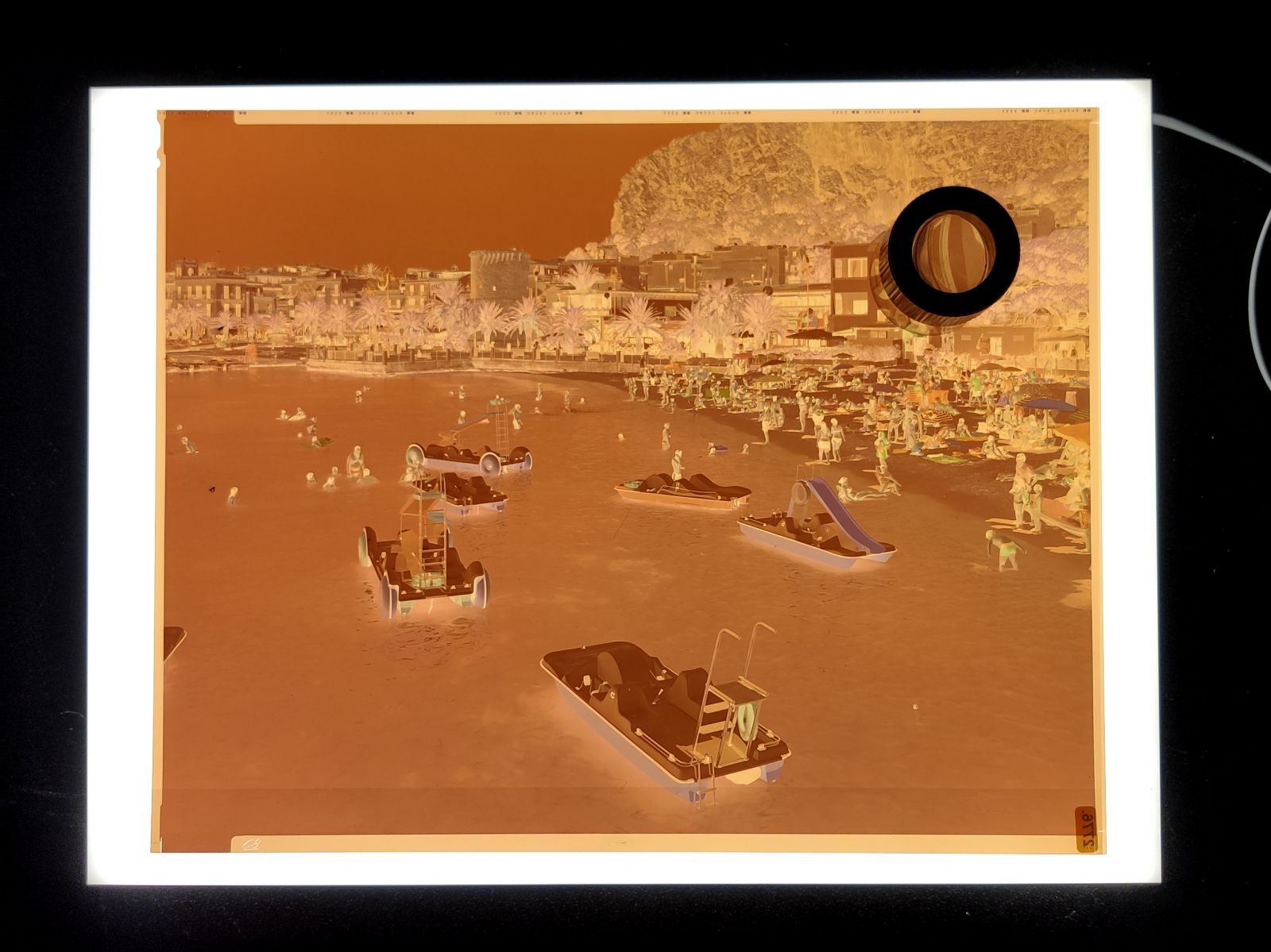 Massimo Vitali: 30x40 film sheet ready to be drum scanned.
Our professional photographic laboratory was born forty years ago thanks to the film and we have never stopped supporting this incomparable medium by offering dedicated services that until recently were considered outdated.
In addition to the best of professional scans, we also provide a PROFESSIONAL FILM DEVELOPMENT SERVICE that's very often the starting point that ends with wanderful LAMBDA C-type prints or black and white SILVER GELATIN PRINTS.
In this way we offer a complete service to all those photographers who want to obtain fine art prints materially indistinguishable from those traditionally made in the darkroom.
Clearly many photographers who shoot in analogue at the time of printing then move towards one of the many solutions offered by FINE ART INKJET TECHNOLOGY.
For this reason WE OFFER THE POSSIBILITY OF CREATING CERTIFIED FINE ART INKJET PRINTS WITH BOTH CANON AND EPSON LATEST GENERATION PLOTTERS.
WHY FILM LOVERS CHOSE DRUM SCANNING:
For all ANALOG PHOTOGRAPHY LOVERS, scanning represents the narrowest bottleneck of the entire creative process. In fact, all "modern" scanners, from the "prosumer" ones to the more famous Imacons, are based on CCD technology.
This means that by digitizing one's own images all the typical problems of digital photography are introduced within them.
Choosing a PROFESSIONAL DRUM SCAN for your analog shots is not just a matter of resolution but of quality at 360 degrees. In fact, drum scanning, being based on PHOTO MULTIPLIER TECHNOLOGY, is the only one able to produce images with: EXTREME NATURAL SHARPNESS (without the need for filters), with an EXTENDED DYNAMIC RANGE and with an OPTICAL RESOLUTION UNREACHABLE BY STANDARD SCANNERS.

In fact, the photomultiplier technology derives directly from the analysis tools dedicated to nuclear physics and for this reason it is characterized by an extreme sensitivity to light associated however with the almost total absence of noise. Furthermore, most of the technical specifications reported by CCD scanner manufacturers are inaccurate, in fact dmax and resolutions are often only nominal, which act as a decoy for less experienced customers.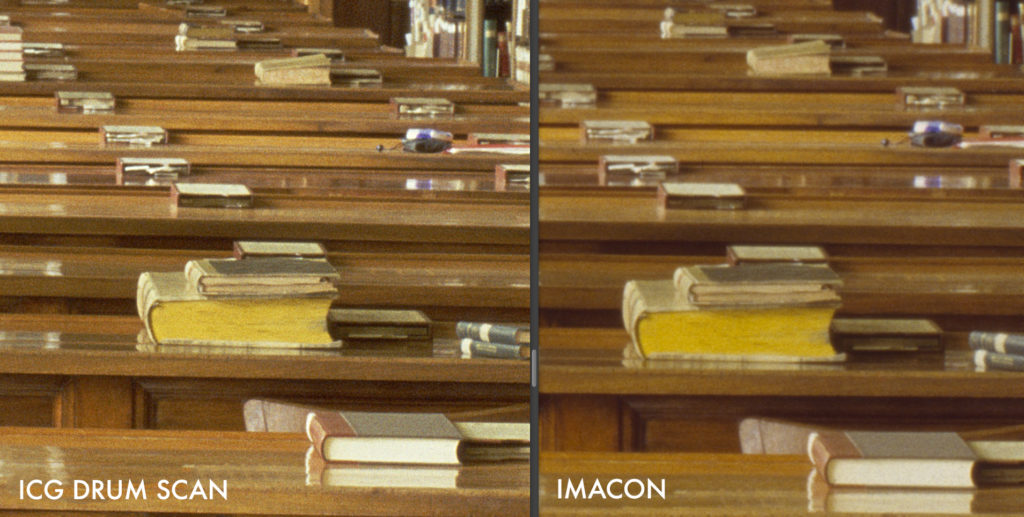 Comparison between ICG photo multiplyer and IMACON CCD.

It is possible to argue for days on which scanning methods are the most effective but WE PREFER THE FACTS. In fact, we have juxtaposed two professional scans performed by our laboratory to highlight the differences between an excellent drum scan and an equally excellent Imacon scan.
The DIFFERENCES IN THE DETAILS ARE DRAMATICALLY EVIDENT even to the less experienced in photography. Specifically, it is a scan from a 4x5 slide to make a 120x150 cm fine art print. The customer obviously opted for a drum scan. Indeed, it is paradoxical to invest time and money in the use of film and then deteriorate the quality of one's images by passing from an amateur scan

One of our drum scanner ready for the daily operatiosn.
For this reason we recommend to all our customers who want to make prints from analogue film larger than the 40x50 cm format. to rely on our professional scanning service.
In order to offer only the best to photographers who turn to our photographic laboratory, we have in fact activated an interesting OFFER: DRUM SCAN + FINE ART PRINT.

THE SECRET OF WET-MOUTING

Perhaps the most complex part of a professional drum scan is that of MOUNTING THE FILM on the drum. In order to perform a drum scan it is necessary to mount the film on an acrylic cylinder. This is done by creating a "sandwitch" composed of: the drum itself, the medium and another transparent film that closes everything.
TO MAXIMIZE THE DYNAMIC RANGE, the sharpness and optimize the reading of the highest densities, these supports are "joined" together through a liquid. This liquid (specifically crafted not to damage the films) also removes dust and even manages to get into the scratches of the film, greatly simplifying the work of cleaning the files.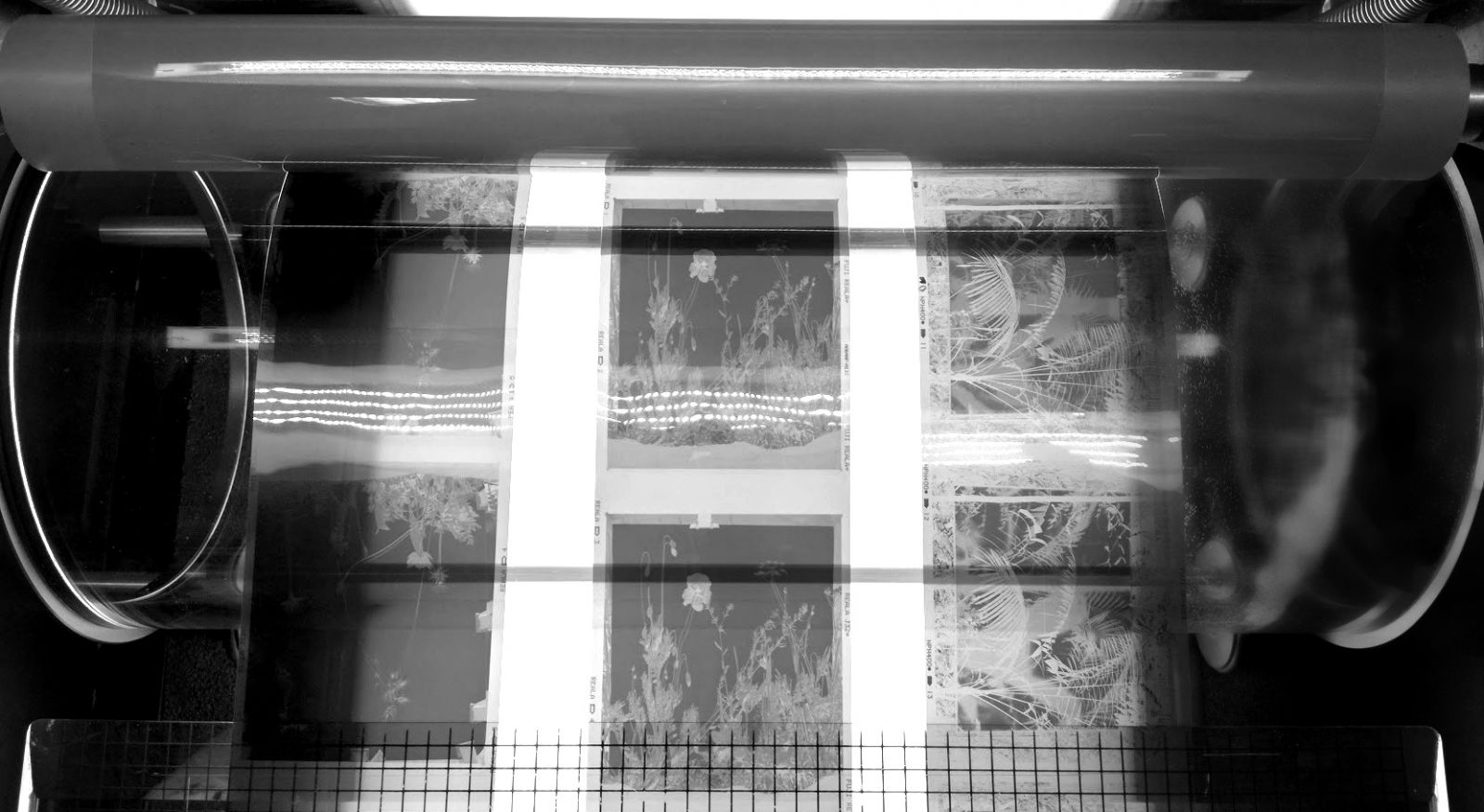 Some medium formats film ready to be mounted on the drum.
The film mounted in this way adheres perfectly to the scanning/focus plane of our drum scanners. The result is PERFECTLY FOCUSED IMAGES contrary to what happens with all other scanners where the film is suspended inside "masks".
The EXCELLENT RESULTS of this type of editing technique are also unique in that they are produced by physical factors NOT REPRODUCIBLE THROUGH OTHER TYPES OF SCANNERS OR SOFTWARE.
UNMATCHED SHARPNESS AND RESOLUTION
The drum scanner we use daily in theour laboratory is a LATEST GENERATION ICG 370. Its OPTICAL RESOLUTION OF 12,000 DPI is among the highest on the market and is capable of generating 16-BIT CHANNEL FILES. These features make it capable of extreme magnifications and the output files have an amazing dynamic range.
To be clear, A SCAN FROM 35 mm FILM. IT MAKES A 90 MEGAPIXEL FILE.
Clearly, the more we go up in format, the more we have the possibility of increasing the print formats, their engraving and detail.
For example, WITH 4x5 FILM WE CAN MAKE FLAWLESS FINE ART PRINTS up to 150x180 cm.
Furthermore, having a dedicated photomultiplier per channel (RGB), the colors are reproduced in a more dynamic and clean way compared to other high-end scanners based on CCD technology.
THE QUALITY OF THE FINE ART PRINT from analog support IS SCANNED BY THE SCAN. It is totally useless to shoot in analog if then most of the information is lost when we go to digitize the film.
THE HUMAN FACTOR:

An excellent professional scanner is the basis of a scanning service worthy of the name but it is also essential to develop a workflow that allows you to manage the acquisition in a scientific and repeatable way.
For this reason thanks to a perfecty calibrated scanner we acquire images without any type of automatic balancing or increase in sharpness, not even during the scanning phase.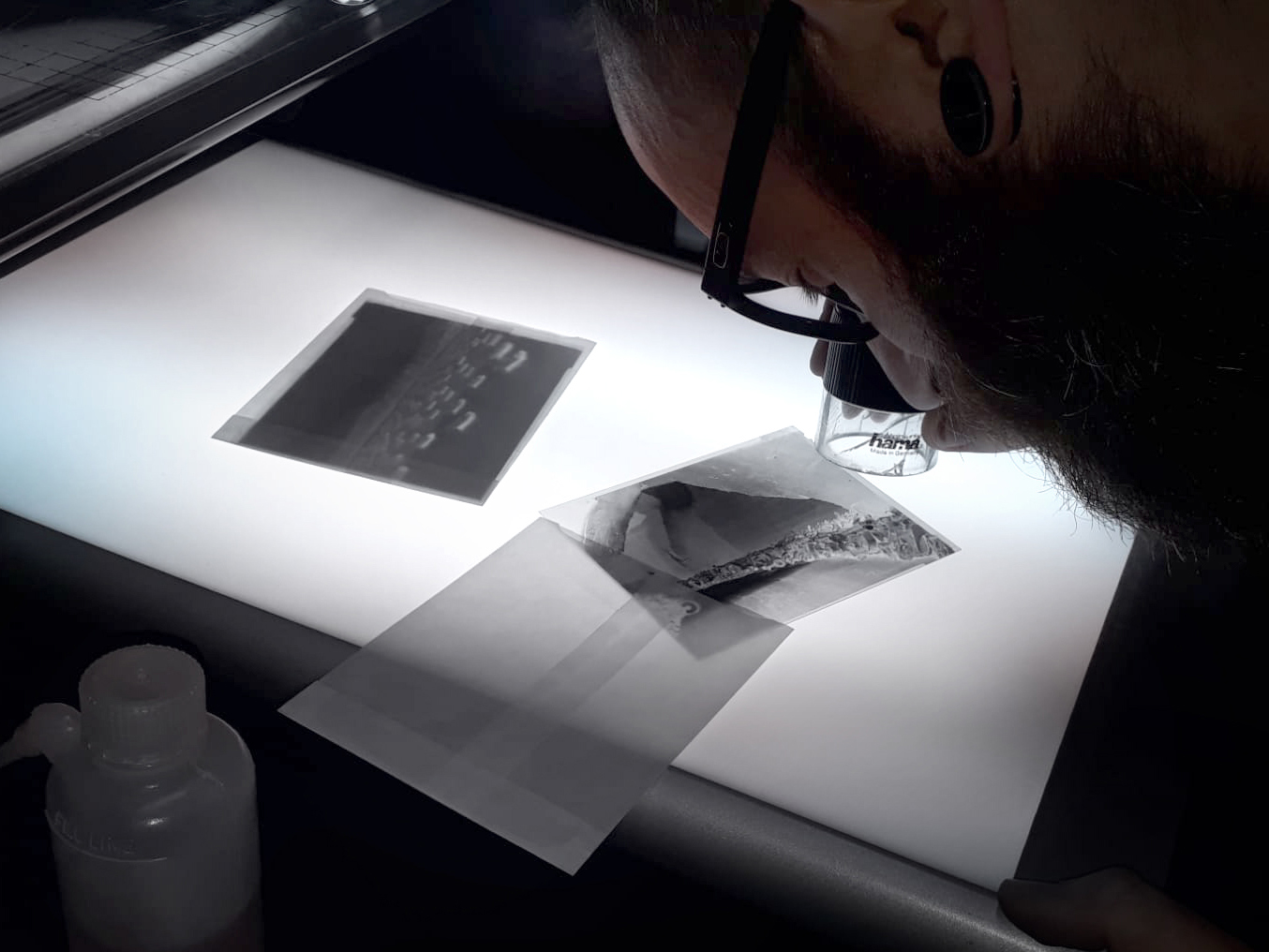 Pre scan evaluation before scanning.
Thus it is possible to manage all aspects of the image starting from a rich file which allows photographers and authors who rely on our experience to REALIZE THEIR VISION and to create impeccable FINE ART PRINTS.
The time and skill required in mounting the mediums on the acrylic drum and in the subsequent management and correction of the file are undoubtedly one of the reasons why this type of scan has been supplanted by the entry level/prosumer one with CCD.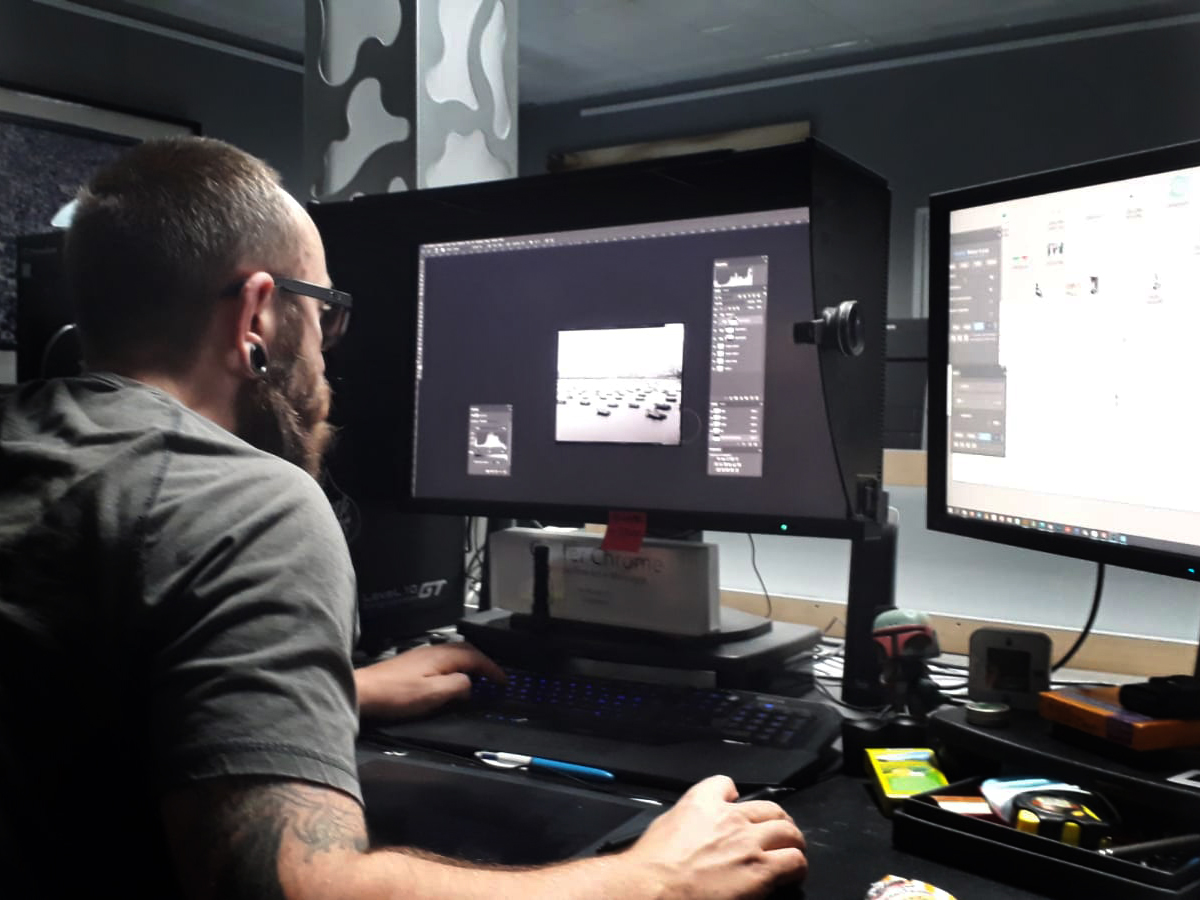 Our color profiled workstations used for color correcting the high resolution scans.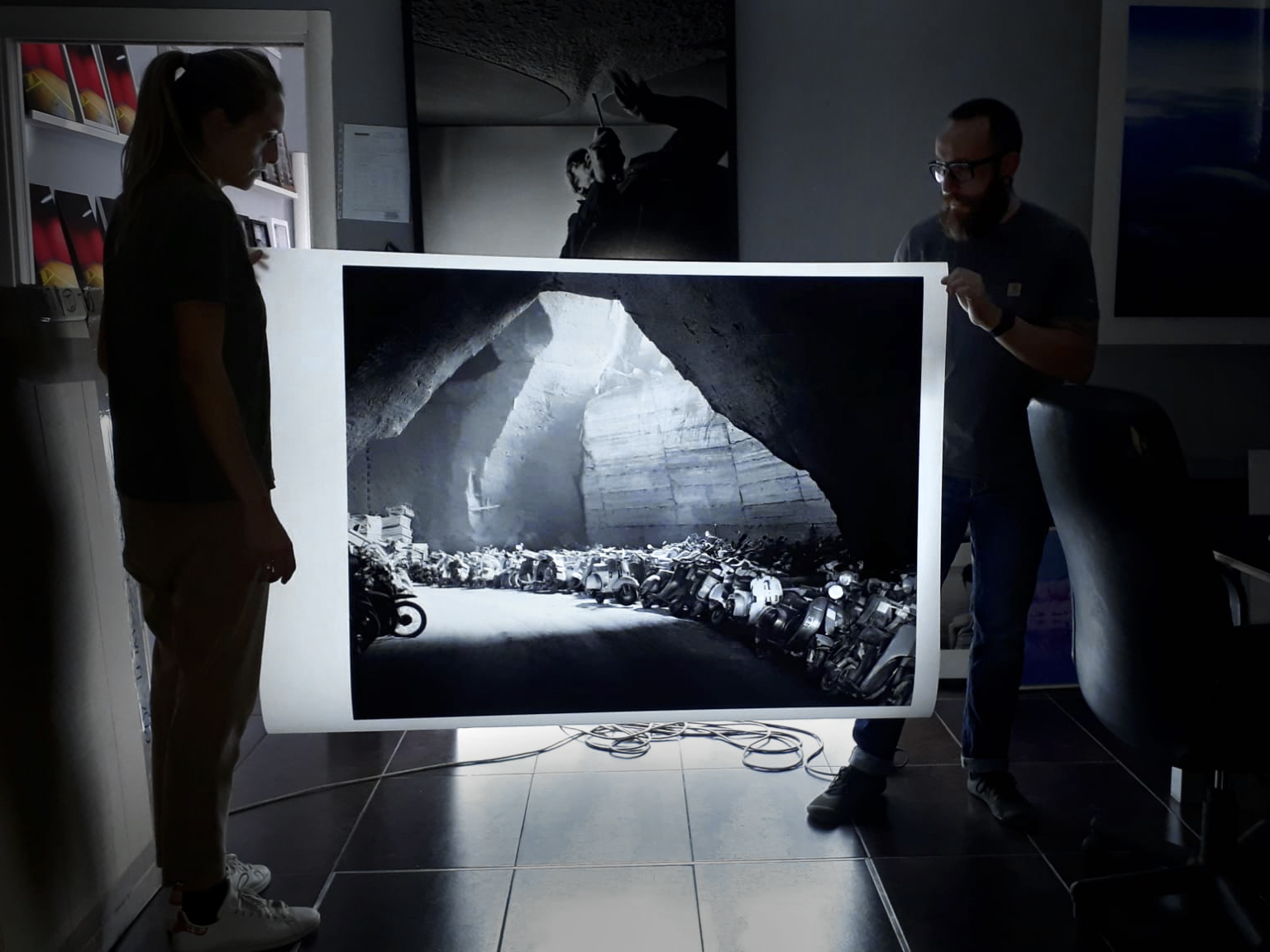 Large format giclée print of backlit film originated by a 4x5 drum scans for Raffaella Mariniello.
Our SCANNER OPERATOR is ALWAYS AVAILABLE TO AUTHORS AND CUSTOMERS for any post-acquisition clarifications and corrections aimed at printing.
This is because the goal of our professional photographic laboratory is to deal internally with all the delicate steps that lead to the final work. In fact, for us, professional high end scans are a service that allows us to get in touch with all those motivated and demanding photographers.
In fact, for us the photographer who shoots on film is the ideal client because his choice, considered by many to be extreme and against the trend, aligns him perfectly with our work philosophy.
For this reason, in the last ten years we can say that we have become a REFERENCE POINT FOR PROFESSIONAL AND HIGH END SCANS IN EUROPE.